Welcome to the 2023 - 2033 St Margaret's Berwick Grammar Strategic Plan.
Our purpose at St Margaret's Berwick Grammar is to grow good people. We strive to achieve this through the provision of an intellectually rich, supportive and stimulating environment, to prepare our graduates for the challenges of life.
Since the School's founding in 1926, we have developed a rich heritage and tradition, establishing a significant reputation for our ability to consistently nurture student growth and learning, in partnership with our families and community.
We strive to grow good people by taking a holistic approach to learning and teaching. We encourage students to express their humanity through the School values of Courage, Curiosity, Character and Respect. Our 4 As of holistic opportunity – Academics, Artistry, Adventure and Athleticism provide a distinctive framework for students to not only develop their intellectual capacity but to also enrich their hearts, bodies and character. We seek to stimulate passion and growth through our unique focus on Pursuits, Design and Innovation as well as Leadership and Character development in a global context.
Our education led strategic plan, created in partnership with our community: Students, Families, Staff, Alumni and School Council, developed around our values and purpose (page 3), brings to life our values and delivers a unique engaging experience.
Our strategic plan is based around three themes/pillars: Excellence, Growth and Belonging. Each of these has broad organisational goals on which we want to deliver through our areas of focus.
Each theme/pillar focuses on and leverages key aspects of our educational aspirations, goals and desired outcomes which have specific statements of intent attached:
An Experience of Excellence (Developed in line with our 4 As) – We challenge our students to achieve their best potential and to pursue excellence in all endeavours within a high-quality and balanced educational experience.

A Focus On Learner Agency (Developed in line with the School's areas of focus) – We inspire our learners to find their strengths and grow in their voice and agency through a scope and sequence of opportunity, choice and challenge that is appropriate to their age and stage. We wish them to lead their own learning as curious and informed citizens.

Belonging (Developed in line with the School values) – We support all members of our community to live with values, personal integrity, wellbeing, a sense of self and an aspiration towards high performance that enables them to plot their own course and flourish within a rapidly changing, globally connected society.
Underpinning the school's strategic direction is a focus on strong foundations that allows for great stewardship of the strategic plan and the school as we progress towards the centenary of St Margaret's Berwick Grammar.
The sum of these parts builds our strategic School House.
I commend this plan to you.
Dr Annette Rome, Principal
Our Guidelines
Values
COURAGE to do the right thing.
CURIOSITY to know and learn.
CHARACTER to be one's best self.
RESPECT to live wisely and compassionately with others and the planet.
Vision
Strive to be our best, now and in the future, for the enrichment of all and the planet.
Purpose
Growing good people in an intellectually rich, supportive and stimulating environment so that they are ready for life.
Graduate Statement
We want our young people to achieve their best potential and flourish in a rapidly changing, globally connected society. We want them to:
pursue excellence in all endeavours
find their strengths and grow in their voice and agency
lead their own learning as curious and informed citizens
live with values, personal integrity, wellbeing and a disposition toward high performance that will enable them to plot their course.
Motto
Virtute et Labore.
Diamond Model
Our Strategic School House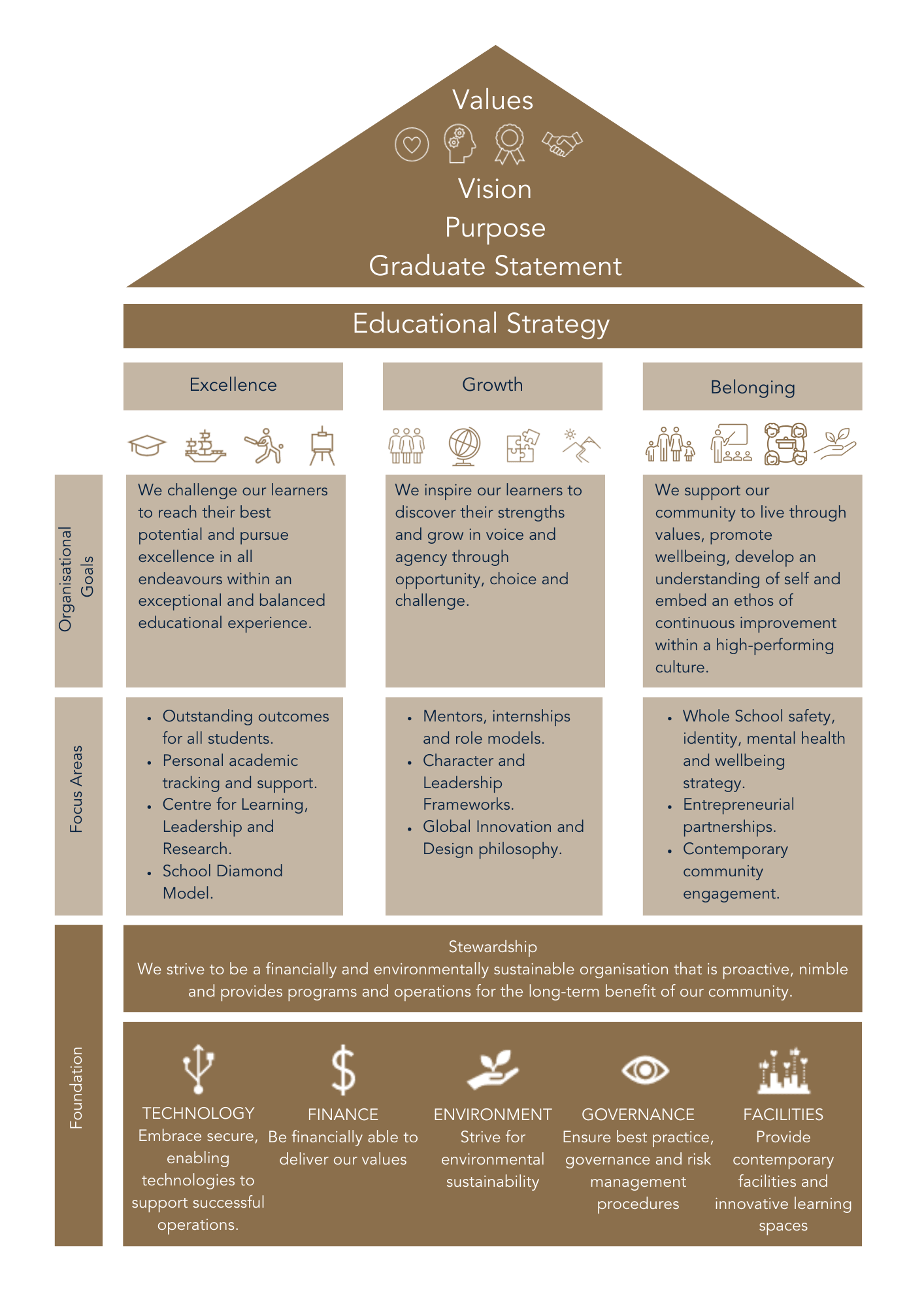 Academic
At our school, our curriculum stimulates and challenges our students to develop knowledge, skills and capacities that will help them be ready for life and able to grasp and manage opportunities in a fast paced, morphing world. They are supported through a range of approaches to teaching and learning to develop skills and age and ability specific understandings. Encouraged to take calculated risks and develop their capacity to think critically and ethically about local, national and global issues. We believe at the heart of great learning are relationships between, teachers, learners and community which are based on mutual trust, respect and understanding of the strengths and challenges of each young person.
Adventure
At our school, we believe that young people learn and grow through active participation and interaction with a range of landscapes and places. Taking them beyond the traditional classroom to experience other cultures, wilderness settings, urban environments and virtual realms provides a vehicle for the development of independence and confidence, whilst also promoting wellbeing, leadership and character. An opportunity for extension beyond comfort zones in settings where risk is acknowledged and managed accordingly provides individuals scope to understand what they are capable of achieving. ​
Athleticism
At our school, we believe that a healthy body is imperative to the development of a healthy mind. We encourage our young people to express themselves physically through play and activity, participating in sporting endeavours as both recreation and competition to develop character and leadership, teamwork and an overall strong sense of self, achievement and wellbeing. Athleticism acknowledges that playing the game is important but so too is how the game is played, in the development of a sense of right and wrong, fair play, humility and collaboration. Through participation and competition, young people have the opportunity to learn about the relationship between endeavour and achievement.​
Artistry
At our school, we believe that the arts are essential to the proper growth and development of the whole young person. Through the visual and performing arts, learners build confidence and experience the world through an aesthetic that helps them to feel more present and find their place in their communities through human expression. Engagement with the arts allows students to appreciate and understand the attitudes, values, behaviours and beliefs that inform the world's peoples. The arts become the shared link, the glue that shapes our understanding of how we see ourselves and each other and aids our travels through physical and virtual space and time.​
Character and Leadership
We aspire to guide our young people towards the development of their own leadership style and character through a broad-based education. We believe that through the leadership and character of young people, our world can become a better, more just, safer and sustainable place. Our students are provided with authentic opportunities to lead others, through developing emotional literacies which empower them to collaborate, resolve conflict, and guide others. They learn to lead community through vision and values, words and deeds. As servant leaders with a unity of purpose, they come to appreciate that they can enrich the lives of others within a more compassionate society and world.
Global Citizenship
We want our students to exercise curiosity and wonder for people, place and planet. We view this as an opportunity to educate our learners to be open to new ways of knowing and being and to honour this through a sophisticated and ethical application of contemporary competencies and cultural awareness. We desire them to engage genuinely with Australia's First Peoples and discover the sensitivity to support our species to live sustainably on a fragile planet. We encourage them to originate and drive personal narratives that reflect a positive disposition towards their own identity, formed within respectful relationships and a supportive community. The world is a big place… go out and explore.
Innovation and Design
We encourage our learners to be inventors, solution architects, and knowledge creators who contribute to their world through design thinking that solves real problems. In an increasingly automated and global world, embracing flexibility of thinking and a resilience of purpose is imperative to enable a grounding in the values and beliefs that define and inspire both them and their society. We aim to help them to be future-ready and future-fit; we want to prepare them for the multiple careers that they will adopt throughout their lives. We want them to be excited by the prospect of this adventure and confident that they are equipped to meet new challenges successfully by building the knowledge, skills, dispositions, and habits that they will require.
Pursuits
We want our students to enrich their education through wide and deep experiences in a range of pursuits that enhance their intellectual, philosophical, creative, physical, and social selves. We encourage them to find their passions. We aspire to help them encounter significant growth in their personal development through their pursuits and apply this across all their learning journeys at the school, both inside and outside the classroom. We want them to connect with and be mentored by our staff and other interested members of our community who can help them explore, imagine, and develop expertise in the company of like-minded peers who share a love for life through similar activities.
Fostering A Connected Engaged Community (Belonging)
Family
Our aspiration is an inclusive and diverse community that shares our School values, demonstrates integrity and aspires to growth, enables all, particularly our students, to flourish in a globally connected society.
We acknowledge that connection through technology is important but believe in the strength, depth and integrity of our personal relationships.
We believe that best educational experiences exist when learning is shared through the partnership which exists between family, learner and school with mutually aligned values and goals. This emerges when organisations, become communities which support, care and value all.
Staff
We are a people organisation. At the fore front of our students' success are our teachers and the staff who support them.
We want to be an employer of choice for all our staff so that we can attract and retain the very best people to ensure we deliver world class learning to our families.
We strive to ensure that every staff member feels valued and that they are able to receive the professional development they need to ensure they are at the cutting edge of the education field and able to take their next steps on their career path.
Our staff are the glue that holds our organisation together, so we want to ensure that every staff member is engaged so that they can be productive with all members of the school's community.
Alumni
We want our students to know that graduation does not mean the end of their connection with the school. Rather, we strive for students to remain connected to their alma mater as they journey through life.
We want our new graduates to know that we are behind them, ready to provide support and advice as they take their first steps in the adult world.
As graduates progress through life, we wish to be a safe, familiar place that they return to, to reconnect with friends of yesterday or as a place to educate their own children.
We hope that the School's commitment and actions foster a desire for students to give back to current students or the school when appropriate.
Giving
Annual School fees are linked to educational programs and School maintenance. Much of the development and evolution of the School has historically been achieved through the generosity of previous generations of families and alumni, who have been keen to see the School remain strong and its students flourish. Philanthropic giving truly sustains and transforms our School programs, scholarship offerings, and facilities for current and future students to enjoy and benefit from unrivalled opportunities.
The SMBG Foundation, which works in partnership with the School community, will play an increasingly important role in fostering and connecting with past and present students, families as well as philanthropic organisations that share the School's vision of how education prepares a child to thrive in the world.