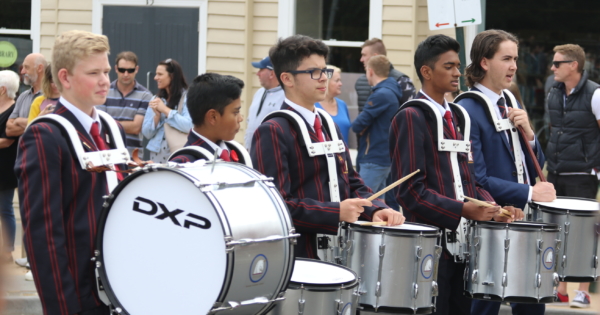 ANZAC DAY
With New Zealand exchange students in our community this month, it felt like a particularly special time at Berwick Grammar School not only to acknowledge those who lost their lives in war, but also the fellowship between our two countries.
Anzac Day is a solemn and important occasion for all Australians, and the boys acknowledged the sacrifice of servicemen and their families with care and dignity.  Many of our boys were present for the local Berwick Anzac Day service, where our very own Drumline lead the march and school captains from all campuses represented our shared feelings.  'Old boys' Lachlan McLean and David Somers returned to celebrate the day – David led the Drumline and Lachlan had the honour of singing the anthem.
At our own school commemoration service the following day, Year 12 Coordinator Mr Mark Dunstan gave a moving speech and asked the community to remember how many of these soldiers were not much older than our own students. Our exchange student Chester Bodmans showed us how our Kiwi brothers felt about the day. Oliver Nichols did a beautiful job of reading The Ode, and our trumpeter Aaron McDonald gave his final school-based performance of The Last Post. Thank you Aaron for your years of commitment to this role.
Ms Lauren Cook