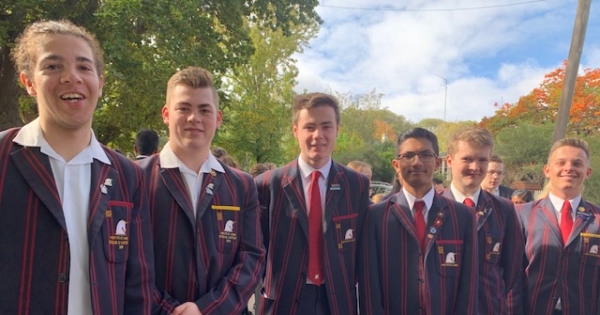 Anzac Day – Berwick March
Anzac Day is an opportunity for us all to say silent words of gratitude to the men who gave their lives so that we can all enjoy the freedoms we have today.
Although in school we provide services to all boys and girls of St Margaret's and Berwick Grammar School, the local Anzac Day March through the Berwick High Street to the Cenotaph is an opportunity to mark this day with even more respect.  It is an honour each year to march with some wonderful students.
This year, representatives from Junior School, St Margaret's Senior School and a record number of Berwick Grammar School boys gave their time for this special mark of respect, and we could not be more prouder of their dedication and civic-mindedness.
It was wonderful to see them all stand and represent their school with pride, and I was particularly proud to see Tallis Pritchard of Year 7 wear the medals awarded to an ancestor of his mother.
The school contributed a wreath to the fallen and the Berwick Grammar School Drumline continued to play a key role in setting the tone and pace for the march for all local schools and community groups.  It was also wonderful to see many of our other students in the crowd acknowledging the day, or representing scouts, cadets or other community groups.
We Will Remember Them.
Ms Lauren Cook
Head of Senior Boys, Wellbeing