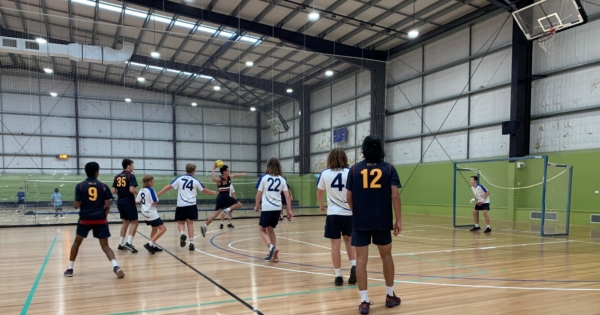 BGS Athletes excel in SIS and beyond….
Whilst our SIS weekly sports matches for Term 1 and SIS trials are for Term 2 are well and truly under way, it has been a series of performances outside of the school arena that have been the most newsworthy so far this term. At the same time that our Senior Soccer, Intermediate Cricket and Intermediate Handball teams continue to chase the season's first wins, and our Junior Volleyball and Table Tennis teams are being selected we had 3 students competing at the highest level possible for their age group in a variety of sports. Matt Merrilees of Year 10 competed at the Victorian Junior Athletics Championships in early March. He narrowly missed the finals in the 100m and 200m, but ran a personal best time by breaking the 12 second barrier for the first time. Another personal best saw Matt place 5th in the shotput, and his jump of 1.87m in the High Jump, another PB, saw Matt qualify for the National Championships in Sydney later this year.
Fletcher Kaintz of Year 9 travelled to Tasmania to compete in the 2019 Tasmanian Cripps long course state championships. He competed in 8 events, and finished in first place for his age group in each, which saw him finish in the top 4 to 5 finishes overall in the open age group in each discipline. Fletcher's best performance was in the 100m butterfly where he smashed his personal best time to record 1:04 in this race. Fletcher has now qualified to compete at the National titles for this association in Adelaide.
The 3 peaks is one of the most grueling endurance events in the world. It is a cycling race where cyclists from all over Australia come together to try and conquer Towonga Gap, Falls Creek and Mount Hotham in the fastest possible time. The race is 235km in distance but includes an unbelievable 4500m in elevation that the riders must undertake. Jordy Graziano of Year 10 not only completed this race, but broke the 9 hour barrier finishing in 8 hours and 57 minutes. This achievement cannot be understated as many adults who train for several years preparing for such an event are not able to survive and complete the race let alone complete it in such a fast time. Jordy's work with the school's HPV and Cycling program is obviously paying off and as with all of our athletes, the staff and students at BGS are extremely proud of these achievements!
Mr Nick Bruton
Head of Sport