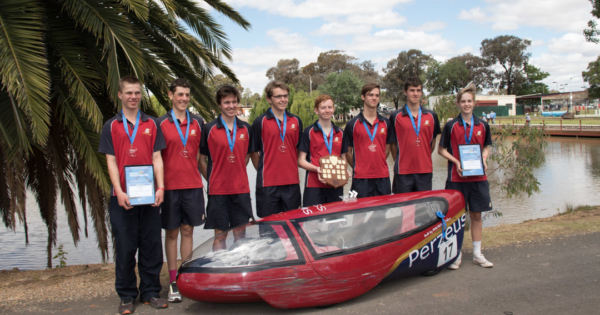 BGS – Energy Breakthrough Success
The 2018 edition of the Energy Breakthrough was a success for the whole HPV squad. Our boys performed exceptionally well in all teams with the ultimate reward coming for the PerZeus team winning the event outright.
Making up two of the eight riders in the Chrysaor team, Sam Thompson and Cooper Webb rode well to position the team to be in contention for a spot on the podium. However, they fell just short and finished in 4th place.
James Agahi, Ben Bryant, Trent Mitchell, Ashton Padula, and Oliver Ward formed part of the team Zeus. These students performed well in their Design and Construction component of the event, achieving a high score. They placed 7th in their category.
Connor Beck, Evan Johnson, Callum O'Connor and Max Walton-Briggs formed half of the Ceto team. As part of the Display and Presentation component of the event they participated in a Sesame Street themed presentation that detailed the journey of Ceto up to the Energy Breakthrough. In the race they rode extremely well to finish in the top 10 of their category.
Our senior boys team of PerZeus were absolutely superb. An excellent Display and Presentation and Design and Construction was backed up with a magical display on the track.
This team broke the distance track record and rode over 1000 km (Berwick to Newcastle) in 24 hours – something that has never been achieved before. The team members were Justin Lake, Rylan Hall, River Dixon, Lachlan McPhee, Lachlan Webb, Jordy Graziano, Tom Fenner and Miller Marks-Boulton. What made this win especially rewarding was the fact that the top three teams were separated by only four laps at the end of the race! This is the third time our school has won the Energy Breakthrough outright.
This event was also the final event for our HPV captain, Justin Lake. He has been an integral part of the squad for many years and has continuously worked hard to improve himself and be the best rider he can be. We look forward to having Justin back to assist our squad next year.