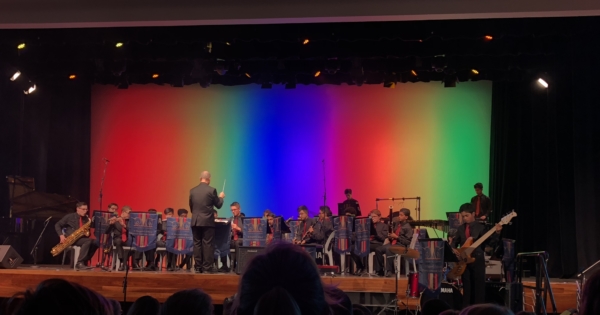 BGS IN CONCERT 2018
BGS In Concert was once again a highlight of the Performing Arts calendar at Berwick Grammar School featuring the musical and dramatic talents of the boys from Year 7 to 12.
The Rosanove Auditorium was filled with family, friends and peers and they were treated to an entertaining selection of music/drama from start to finish.
The evening opened with the whole school community and audience joining in chorus with You're the Voice. What an amazing sound!  The Combined House Band provided an incredible accompaniment and I am sure John Farnham would have been proud of us all.
All the performance ensembles featured throughout the night: Senior and Junior Concert Bands involved all of the wind and percussion players, whilst the Con Brio Strings, Vocal Ensemble, Guitar Ensemble, Big Band, VCE and Year 7 and 10 Ensembles, Drumline, Saxophone and Brass Ensembles and soloists presented a range of repertoire from many music genres.
This year we saw the addition of the Year 9 Drama performance. Their pea shooting scene in slow motion with strobe lighting was both comical and clever. To conclude a wonderful night of entertainment the audience was treated to some '1980's Classics'! The Berwick Blokes began with The Final Countdown and vocal soloists joined in for We Built this City.
The night was certainly a whole school team effort! Students were not only involved in the onstage music and drama items but were able to develop their skills in program design, photography, filming, backstage, sound, lighting and ushering.
A huge thankyou goes to all the Ensemble directors, Instrumental staff and classroom teachers of Music and Drama, whose ongoing enthusiasm and dedication to Performing Arts education at Berwick Grammar School has enabled the boys to reach their full potential.
Finally and most importantly, congratulations to all the boys for their hard work and ongoing commitment to weekly rehearsals throughout the year. I was so impressed with their passion and enthusiasm, making BGS In Concert another memorable and fun evening for all.
Mrs Robyn Hambly