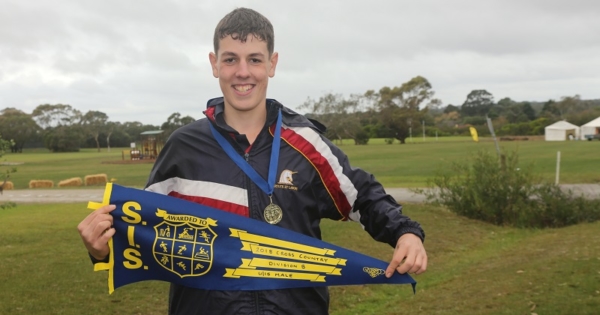 BGS STUDENTS EXCEL AT SIS CROSS COUNTRY CARNIVAL
Last Tuesday our squad of 43 boys headed to Baxter Park to compete in the annual Southern Independent Schools (SIS) Cross Country Carnival.
Conditions were wet and miserable but didn't dampen the spirits of our Year 12 runners who got off to a solid start with Aidan Ferreira finishing in 6th place and Oliver Nichols and Jacob Bernard not far behind in 15th and 24th respectively. In a race of around 50 competitors it was a great effort by our School's leaders in their final cross country carnival for the school.
The Under 17 race saw outstanding consistency with four runners finishing in the top 10 with Mason Bursill leading the way in 5th place closely followed by Rylan Hall 7th, Ashley Chandrasinghe 8th and Joel Clausen 9th. These results saw our boys finish a very close 2nd in the race for the Under 17 Pennant.
The Under 16 team saw some more great performances with Cooper Wright 4th and Nick Hoghton 7th leading the charge. With Zac Van Den Berghe and Nick Riordan both crossing the line in the top 15, we once again had a top 2 finish for our age group. Jordan Graziano led the way in the Under 15 race, crossing the line in 1st place to become the Under 15 SIS Champion in a testament to his outstanding levels of self-discipline and physical fitness. Great runs by James Gallie 4th, Thomas Fenner 6th and Gavin Li 7th, meant that our Under 15 boys were triumphant and were convincing pennant winners for their age group.
The Under 14 race saw our 2nd medal for the day with Sam Hoghton backing up his 3rd place in 2017 with a very close 2nd place in this year's race. Evan Johnson was next across the line in 7th place, Mitchell Bourke 11th and Ovin Jayawardana 13th, rounding out our top 4 with very solid runs across the 4 km journey. Whilst our youngest competitors did not have any top 20 finishes in their race, special mention should go to Jason Xue for finishing 25th in the Under 13 race on the day.
Overall, our boys showed great determination and resilience to brave the conditions and compete so well across all year levels. All eyes now turn to next term's BGS Athletics Carnival to see how our boys go over the shorter distances.