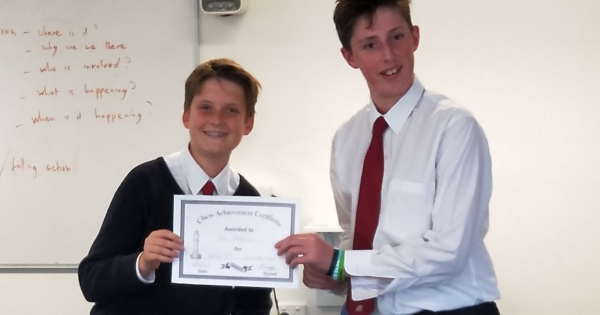 Chess Club fires up for competition
Chess Captain, Kurt Caddy, has been doing an outstanding job in leading Berwick Grammar's student directed Chess Club. With minimal assistance from his teachers, Kurt has been mentoring boys from Year 7 right through to VCE, helping them learn the fundamentals of competitive chess. His lessons have been varied, using a range of educational strategies including interactive online games, PowerPoints, one-to-one feedback and good old fashioned practice.
After spending Term 1 and the better half of Term 2 on skills development, the Chess Club has moved on to an in-house tournament, which will decide the participants for the SIS Chess Competition later this year. This points based competition, uses the same rules as those used by the SIS, ensuring that our boys are well prepared for competition conditions.
Kurt has been encouraging of the students who volunteer their time to develop this intellectually challenging pursuit, and has displayed a lot of initiative in rewarding students with participation certificates and praise for their efforts. He is thanked for all of the dedication he has shown in providing this valuable opportunity to his peers, and we look forward to seeing the continued progress of this fantastic club.
Mr Sean Pieper
My Summit Co-Cultural Coordinator