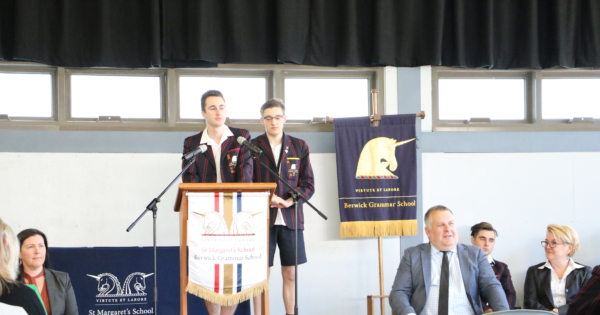 Class of 2018 – Year 12 Final Assembly
The beginning of Term 4 marks the end of scheduled classes for Year 12 students.  One of the first in the series of major commemorations of this is the Year 12 Final Assembly that took place on 11 October.  This is a relaxed forum in which Year 12 students farewell the younger boys and show gratitude for the opportunities provided for them by the school.  Outgoing school captains Aidan Ferreira and Will Morgan gave a summation to the year, and reinforced their key message about getting involved in all that the school community has to offer.
Oliver Nichols celebrated the milestone of attending St Margaret's and Berwick Grammar School since Pre-Prep, giving a particularly moving and heartfelt speech about the highlights of his years at the school. Academic awards were also presented to the top student in each subject.
Light comic relief was brought in the form of a farewell video, a speech by Kaelan Dekker and some clever choices by the Senior ensemble.  Ben Inskip wrote the 'Berwick Tootle' which replaced the traditional processional, and the school song was played like never before.  The whole community wishes our senior boys well as they enter the exam period.
Ms Lauren Cook
Deputy Head of Berwick Grammar School