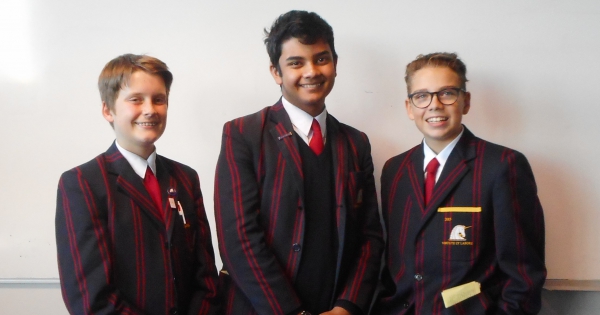 DAV Junior Public Speaking Competition
Six of our more dedicated public speaking enthusiasts got up bright and early on Sunday 18 June and headed to St Kevin's College in Toorak, to take part in the DAV Junior Public Speaking Competition for students from Years 7 to 9.  These boys were treated to an hour long warm-up and skills development session, where they participated in practical exercises to help hone their confidence and ability.
After a break, students each presented their own unique response to a broad prompt. Some explored the concept of  'learning from history.' Others discussed who can be considered 'real life superheroes.' The more philosophical delved into exploring exactly what 'humanity's next adventure' will entail.
Students also had to deliver two impromptu speeches, each with only five minutes of preparation time. This exercise in quick, critical thinking, forces students out of their comfort zones. Without their ability to rely on notes and cue-cards, they were forced out of their comfort zones, learning to speak comfortably and 'from the heart.'
It was a moment of pure pride seeing the resounding talent, skill and enthusiasm shown that day by all of our school's representatives. It certainly was an impressive display of oratory from some young men destined for public speaking greatness. Congratulations to all involved.
STOP PRESS! Oliver Ward (Year 9) has qualified to represent Berwick Grammar School at the semi-finals of the state-wide DAV Junior Public Speaking Competition. We congratulate Oliver on this significant success and wish him well for the next stage.
Mr Sean Pieper
Coordinator, Cultural