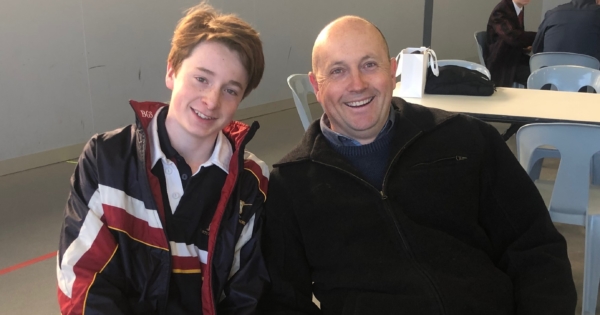 Father's Day Breakfast
The bonds that young men have with their fathers, brothers, uncles and other male role models are crucial in forming their identity and in promoting healthy ideas about what it means to be a man.  This is why it was so wonderful to see a record 74 members of the Berwick Grammar Community take time out of their busy schedules to come to our annual Breakfast for Fathers and Special Friends.
This casual gathering is a great way for men to let the boys in their lives know they will support and make time for them.  And for boys to invite someone and recognize the important role they play in their lives.
The Parents' and Friends' Association put on a terrific spread of sausages, bacon and eggs and a huge thanks goes to Tim and Karen Chipperfield for arriving early and making sure all attendees had a hot breakfast.   Thanks too the all the House Leaders who attended and met the significant men in their boys' lives.
In addition, there were lots of activities for the boys to get involved – and table tennis tables were especially popular as the young men showed off the skills they are practicing in their House Areas.   Basketball was also another popular option.
Those who attended were also offered a sneak peek at our new gymnasium facilities which will be opening shortly.
Ms Lauren Cook
Head of Senior Boys, Wellbeing