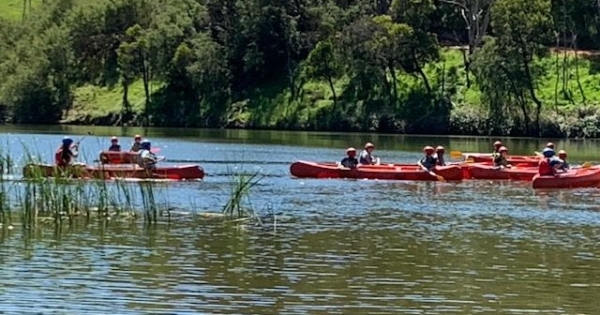 From the Head of Junior School – 15 November 2019
Camp Jungai
I had a wonderful camp with the Year 3 and 4 children recently in Rubicon. The children were thoroughly spoilt as they experienced the beautiful surrounds of the camp environment- by dense forest, green pastures, the Rubicon River and an enormous lake. Rubicon is between Taggerty and Eildon, on the fringe of exquisite state national parks. The children enjoyed a variety of activities over their two-and-a-half-day camp that included canoeing, possum pull, nature trail walks, low ropes, ponding and more. The weather was typical of that part of Victoria with very chilly mornings and evenings but very warm weather during the day – how lucky were we? I thank Darren Lay and our OEG colleagues for their planning and co-ordination of all aspects of the camp. I thank all staff for giving up time with their own families to come away and ensure that all the Year 3 and 4 students had a memorable outdoor education experience.
Grandparents Day
The ELC and Junior School students hosted their grandparents or special friend to our annual Grandparents Day. The children were so excited and proud to welcome their guests and we had such a large turnout of visitors. Grandparents and friends visited classrooms where some of them joined in some Maths or English activities, did drawings together, played puzzles and games, answered questions about their childhood and some were even pampered by some of the Year 2 children with hand massages and nail painting! Some children took their guests on a tour of our grounds and facilities and many cunning children steered their grandparents in the direction of the Book Fair where purchases were aplenty! Our guests enjoyed their scones and morning tea provided by our wonderful canteen staff, after an assembly. Thank you to the parents for their support on the day and to our grandparents for making great efforts to attend.
Nut Minimisation/ No Food sharing
A reminder to all families of our Junior School and ELC that we discourage children bringing food to school that contains nuts. We have some students in the Junior School and ELC who are anaphylactic or highly allergic to nuts and ask that you take great care and check ingredients on all packaging when selecting food for your child to bring to school. For this reason, we also discourage all children from sharing food at school. Thank you for your co-operation on this important matter.
Looking ahead to 2020 – Booklist – bulk ordering for Early Years classes.
I thought I would repeat in this edition, what I wrote in an August Campus News edition about Bulk stationery ordering for ELC to Year 2 in 2020.
After many discussions with our official books and stationery supplier, Campion Education, we have decided that as of 2020, all students in ELC, Prep, Year 1 and Year 2 will have all their supplies delivered to the school. Therefore, we will no longer issue a booklist to students in ELC to Year 2. There are several reasons for this change which will save parents, teachers and students a lot of time at the beginning of the school year. It is very time consuming for our very young students to have to unpack all the contents of their large boxes on their very first day of school. It is difficult for the staff to manage especially when many students have not purchased/brought in all the items or are unaware why.
For such young children, it is essential that their first interactions with their teachers are spent on getting to know each other and in activities that allow them to begin to learn! In ordering by bulk, there are cost and time savings for parents and when your child arrives on Day One, everything will have been unpacked and labelled for your child prior to commencing the academic year.  The start to the year will be much smoother for parents, students and teachers. This books/stationery fee will be added to the Consolidated Fee charges.
It has been decided that it is more appropriate for students in Years 3 to 6 to continue to order their books via the existing Booklist system from Campion Education. As children mature, they can make joint decisions with their parents about what to buy and from where and generally like to be involved in the selection process. The teachers of this age group believe it does not detrimentally affect the beginning of the year induction for their students; the unpacking and sorting of class materials takes minimal time and assists them to become organised.  Please see me if you have any queries.
Ms Louise Sayar
Head of Junior School