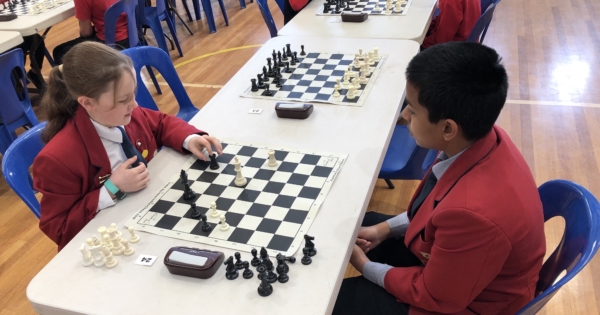 From the Head of Junior School – 19 September 2019
I mentioned at a recent assembly that there are so many opportunities for students to excel in a variety of activities at St Margaret's. This term many of our students in the middle to upper primary classes sent entries into various competitions including: Science Talent Search, National History Challenge, Maths Talent Quest and Tournament of the Minds. Two of our Year 6 students entered a Zone Chess competition and did very well. Dinith from Year 6 was awarded Star of the tournament, winning first overall with 6.5 points and proceeded to the open primary state final. Lauren from Year 6 received a bronze medal for the girls division and will proceed to the girls state final and open primary state final. These are such commendable achievements. When we receive further results from other tournaments mentioned above, we will publish them in this forum.
There are so many benefits of our Junior School being a part of a dual-campus, P-12 school including the opportunities for students to participate in co-curricular activities and experience the thrills and excitement of joining in group pursuits with their peers and older students. The participation of Junior School students in Whole School activities such as HPV, Cycling, Aerobics, Skiing and Whole School Orchestra demonstrate the breadth of programs we have at our School. One of the highlights of the term was the recent Junior School 'This is Me' concert. Thirteen students performed solo items at a level that can only be described as outstanding; our choirs sang beautifully, and various ensembles and bands also performed entertaining pieces. All of the Year 2 to 6 students came together at the end as a choir for their stirring rendition of the song, This is Me. The evening was ably and confidently compered by the two Junior School Music Captains, Tijana-Mai Djukic and Sithuka Padukka.  My thanks to the Music staff who worked tirelessly during the term to prepare the students and to the classroom and specialist teachers for their support during the term and on the evening.
Thank you to the students in ELC to Year 6 who recently shared and reflected on their learning with their parents. More has been written about this by Melissa Graham, Deputy Head and PYP Coordinator.
Two fundraisers towards the end of this term were a success and a lot of fun for the students. The Whole School Touch of Footy Colours fundraising day combined with the Pyjama Day, which raised money for the Children's Education Unit at Monash Medical Centre, raised a total of $468. Thanks to all families for your support.
Quite a few teachers filled in for staff on Leave during this term and we thank them and wish them well: Mrs Patricia Villanueva, Ms Katrina Gearon, Ms Bronwyn Gowty, Mrs Danielle Forsyth and Ms Susie Facey-Smith. Thank you to Mr Jazer Lee, Ms Naomi Heyden and Mr Marten Visser for teaching many of our Junior School students whilst Ms Emily Bermingham recovered from her surgery. We look forward to welcoming Ms Bermingham back next term.
Finally, a huge thank you to the staff of SMS Junior School for their continued pastoral and educative support of all the students. To all families, I thank you all most sincerely for your good humour, smiles, happy anecdotes and the trust you place in us every day whilst we do our most important job. Have a wonderful two-week break with your family and we look forward to all students returning on Tuesday 8 October in full summer uniform.
Ms Louise Sayar
Head of Junior School