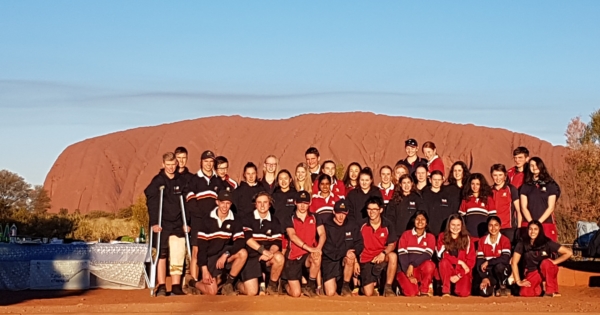 From the Principal – 27 July 2018
Welcome to Term 3: The benefits of being part of something bigger
I welcome all families back for the start of Term 3 and hope everyone had a chance to recharge. I know some had fun-filled experiences while other families experienced great challenge. Schools are microcosms of the world and exist to celebrate and support families as well as educate children. At St Margaret's and Berwick Grammar, Educational Support Staff continued to work hard through the break to support all students in the areas of facilities and processes and I thank them for that. Students and staff enjoyed the vistas in Central Australia and French New Caledonia and a number of teaching staff presented at conferences. Congratulations to Lauren Cook and Helen McDonald from Berwick Grammar School for their well-received presentations in the International Boys' School Coalition conference this break. Our exchange student program also continued this holiday with positive experiences being noted by all. Exchanges are an important way of growing knowledge of new and different ways of knowing and being.
On the world stage we witnessed the highs associated with the Thai cave rescue and, for many the joys and/or despair linked to the World Cup. For my part, I travelled to the UK and Ireland and was in a position to observe the response to the World Cup first hand. Distance can free us to reflect and review ourselves and immersion in the shenanigans of the World Cup somewhat curiously led me to explore further one of the legs of our wellbeing stool: Identity.
It is known that challenging and traumatic events trigger self-reflection for nations; we have seen this with Trump's global impact and likewise Brexit's disruptive effect on Britain. Identity is dissected, challenged and often disputed.
As the UK struggles through the ramifications of the Brexit vote, strange solace is coming from the English Soccer Team. This team is an incredibly ethnically and culturally diverse group and this 'grab bag' of nations in one team worked together in an effective and positive way. They were described as a ' harmonious and likeable multiracial squad of white, black & mixed race players at ease in each other's company, patriotic and seemingly happy to sing the national anthem and wrap themselves in the flag'.
The messaging from the English Soccer  coach, Gareth Southgate noted "Lack of regard for common bonds tears fabric asunder" and he asks us to consider "what holds us together, not apart". Their coach Pippa Grange also encouraged them to approach all matches with excitement, a sense of challenge and fun rather than fear. To think beyond themselves.
The messaging, however, went even further, Southgate encouraged the players to show humility and to play with pride and without fear "We have the chance to affect something bigger than ourselves" he said. "Our diversity and youth represent modern England. In England, we have spent a bit of time being a bit lost as to what our modern identity is. As a team, I think WE represent that modern identity and I hope that people can connect with us. Of course, I'll be judged by football results, but (we) have a chance to affect something bigger".
To many, the latest English awakening is indeed about culture, identity and belonging.
I am sure you can see where I am going with this
Brexit rendered Britain apart – it has potential to define English nationalism by forces of darkness and xenophobia. Historian Jeremy Black noted, "Brexit is an explosion that jerked us all awake and in wakefulness we discover we are more divided than we've ever been".
We need to strengthen those 'bonds of belonging' that Southgate flagged. Philosopher John Denham speaks of the 'bonds of belonging' that seriously address issues of festering resentment and feelings of disenfranchisement – otherwise we risk being torn apart.
But back to Gareth Southgate who states "We seek patriotism without rancor and a confident, harmonious identity that is not inward looking and bitter, but outward looking – and in its diversity, openness, tolerance, rootedness , generosity and commitment to the common good reflects a community that is part of something bigger".
Frankly, this resonated with me as I think of our wonderful School.
We as a school are part of something bigger. We too are not only about results – important as they are – but also something bigger so that we may be the best we can be for all humanity and the planet.
So, how are we part of something bigger?
Game Changers and Change Makers STEM Festival at St Margaret's and Berwick Grammar
This is an outstanding free community event. We have teamed up with the top universities and STEM innovators to provide experiences in Artificial Intelligence, Robotics, Cyber Security, Virtual Reality, Geospatial Engineering, Architecture, Medtech and Sustainability for our students and the broader community, including parents. Please see website for further details and book through www.trybooking.com/394212
PYP Teacher Training and Evaluation
We received our Evaluation report and I am delighted to share that we received no matters to be addressed, 9 Recommendations and 16 Commendations. This is an outstanding result and the strongest result we have ever received. Congratulations to PYP Coordinator Melissa Graham, Carole Reed and all staff involved. This, along with the current St Margaret's and Berwick Grammar teachers that train other teachers, further cements us as a world expert in the area of educating primary students.
The Certificate of Global Responsibility
The staff and students from all parts of the School are potentially influencing the outcomes of children all around Australasia. This is an innovative and exciting contribution to education.
The Harvard Project Zero work
This project involves teachers from both Junior and Senior Schools and will result in even better teaching outcomes for both staff and students through linking with learning communities beyond our walls.
The Reconciliation Action Plan
This important project also links teachers and students from across the School and causes us to look beyond our school to the limits of the nation and play our part in making Australia even greater.
Growing Good Men
This work at Berwick Grammar is addressing one of the biggest societal challenges we face in Australia in a positive, constructive and effective way. Ably led by Dr Steven Middleton, one of Australia's experts in this area, this project works with not only the boys, but also their families and reflects our commitment to society more broadly.
21C Partnership with Edustem
This experience for Years 7 & 8 was genuine learning in partnership that emphasised global responsibility, the associated skills of critical and creative thinking, teamwork and problem solving.
How can you be part of something bigger?
We are looking for families to become homestay parents for children from around the world. If you are interested, or know anyone that is, please contact Mrs Carolyn Roney on roneyc@stmargarets.vic.edu.au
Acknowledgement: an article in New Statesman https://www.newstatesman.com/ triggered some of the thinking in this article.
Ms Annette Rome
Principal