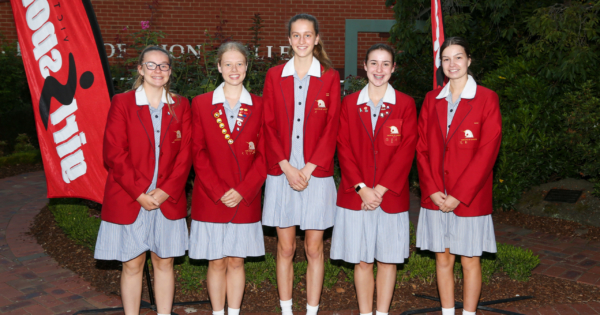 Girls Sport Victoria (GSV) Sports Leaders Breakfast
On the morning of Thursday 13 February, the St Margaret's School sport leaders attended the annual GSV Sports Leaders Breakfast, this year held at Our Lady of Sion College in Box Hill.
It was an honor to attend this event, which celebrates and empowers students from each of the 32 Girls Sport Victoria (GSV) schools, who have been elected as sport leaders.
The leaders that represented our school on the day were Sport Captain, Jessica Day, Cross Country Captain, Amy Herbert, Athletics Captain, Georgia Asling, Swimming Captain, Romaine Morgan and Diving Captain, Tara Matheson. The five of us had heard from previous sports leaders about the impact this event had had upon them since we were in Year Seven and so were both excited and felt privileged to now be attending ourselves.
At the breakfast itself, we were allocated to tables amongst ten girls from different schools. This allowed us to get to know them and share our own experiences in leadership and in sport. At the event we were lucky enough to have a truly esteemed guest to speak to us about being a leader in sport and in life.
Carol Fox is the President of Women Sport Australia and was chosen to be a baton bearer for the 2018 Commonwealth Games Queens Baton Relay. She is an Executive Coach, Conference Speaker and Masterclass Facilitator. Carol has many qualifications including a master's degree and was Victoria's first professional female surf lifesaver and a state-level swimmer and water polo player.
With so many qualifications and experiences, she is an amazing role model and we were fortunate to listen to her wisdom about confident leadership. This included looking at the power of body language and words when communicating our future messages as sport leaders of this school.
A huge thank you to GSV for hosting this event and to Mr Atkins for taking us. As Leaders of our school, we each found inspiration, knowledge and ideas that we believe will assist us going forward as we strive to be confident leaders and role models ourselves.
Jessica Day – SMS Sports Captain