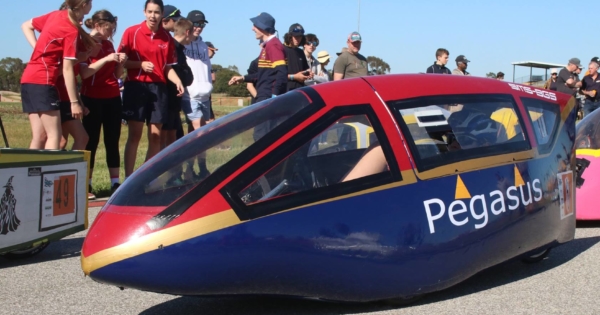 Great results at Round 4 of the Victorian HPV Series
Perfect weather conditions were experienced for the final round of the Victorian HPV Series held at Casey Fields recently.
The St Margaret's and Berwick Grammar School Human Powered Vehicle and Cycling Squad had 64 students and 23 parents and former students competing, fielding a total of 10 teams out of . With 133 vehicles entered into the event, racing was going to fast and furious!
I was very pleased with our rider performances throughout the event. Most importantly, everyone seemed to be enjoying themselves, both on and off the track.
SMSBGS Round 4 Results by Category
Vehicle
Position
Category
Apollo
19th
Junior
Cassi
12th
Shooting Star
33rd
Chrysaor
5th
Middle
Zeus
10th
Senior
PerZeus
3rd
Open
Ceto
19th
Pegasus
1st
Open Female
Electra
5th
Masters
Lynx
6th
Mixed Community
Unfortunately, Ceto had a component fail during the race which saw the vehicle off the track for over an hour getting repairs. Credit must go to the riders in this team who were mature in their approach towards the situation and getting the vehicle back out on the track to complete the race.
Overall series results were also awarded and due to our rider's determination and desire to perform well as a member of their team, against tough competition, the Squad were successful in obtaining fantastic overall series results in two categories:
| | | |
| --- | --- | --- |
| Vehicle | Position | Category |
| Pegasus | 1st | Open Female |
| PerZeus | 3rd | Open |
It was a successful Victorian HPV Series for St Margaret's and Berwick Grammar School's Human Powered Vehicle and Cycling Squad. Our 'Team' is a very successful one only due to the fantastic support provided by our families, former students and the contribution of our sponsors and supporters. Without this, we would not be able to provide so many students with an opportunity to compete in this sport.
Mr Andrew Lardner