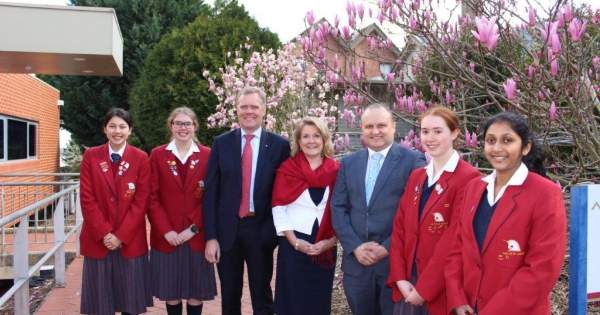 Head of Campus Update – 21 September 2017
The elections of the 2018 student leaders have continued over the past month and I am pleased to announce the following students have been elected to positions of responsibility.
School Captains – Julia Bourke and Jayarupi Pahala-Vithana
Year 12 Captain – Julia Taylor
Student Council Captains – Muskan Saroya and Senara Hettige
Social Service Captain – Sethini Wickramasinghe
Social Service Committee – Sungkavi Achuthananthan, Senara Hettige and Sajah Agha
Cunningham House Captains – Alina Ermolaeva and Susanna Bates
Campbell House Captains – Brooke Stanton and Siahn Fraser
Gipson House Captains – Jemmah Nathanielsz and Nazia Ayubsha
Music Captain – Eloise Smith
Sports Captain – Grace Davis
Art Captain – Lulu Bai
Dance Captains – Kathleen Robinson and Ashlea Maillard
Debating Captain – Sungkavi Achuthananthan
Drama Captain – Elissa Hearld
Duke of Edinburgh Captain – Kani Balamurugan Veni
Environment Captain – Emily Hansen
Music Section Leaders
Alto – Beem Johnstone
Choir – Tharini Devi
Orchestra – Jemmah Nathanielsz
Mezzo – Stephanie Morgan
Soprano – Julia Bourke
Symphonics – Jemmah Nathanielsz
School Ambassador Captain – Sajah Agha
Stagecraft Leader – Tharini Devi
Magazine Committee –  Ruvini Kathriarachchi, Mary Feng, Isabella Desiatov, Isha Ali, Samantha D'Roza
Sports Leaders
Athletics Captain – Ella Shone
Cross Country Captain – Erin Hanley
Equestrian Captain – Ruby Conlon
HPV Captain- Susannah Bates
Swimming- Erin Hanley
Diving Captain – Susannah Bates
Friends and family of all current Year 11 students are reminded that there will be a formal Leadership Induction Ceremony being held at 9.45am on Monday 30 October. Put the date in your diary.
This term we have welcomed some fabulous guest speakers to School Assembly. On 29 August we were lucky enough to have members of both State and Federal Parliaments talk to the students about their role in Parliament and to answer questions from the students. We thank Jason Wood, Liberal Member for La Trobe, Brad Battin, Liberal Member for Gembrook (Shadow Minister for Environment and Shadow Minister for Emergency Services) and Tony Smith, Liberal Member for Casey (Speaker of the House of Representatives) for giving us their time and sharing their experiences with us at school assembly.
On 5 September, we were pleased to welcome back past students Brooke Howarth (class of 2011) and Monique Woodward (nee Brady) (Class of 2003). Brooke is now a policewoman and Monique is an architect running her own busy practice. These inspirational women talked to the girls about their experiences as students at St Margaret's School and the way in which these experiences shaped them both as people and within their chosen career paths. They each unveiled their portrait, which now hang proudly in the Alumnae Portrait Gallery (in the Elizabeth Woodyatt Library Building). Next time you are in Senior School, I invite you to take a few moments to look at the portraits and to read the story of each inspirational woman in the gallery.
A reminder that Speech Night is being held on Wednesday 25 October in the Rosanove Auditorium commencing at 7pm. This is a compulsory school event for all students in Year 7 to 12. Please note the date in your diary. All students will be allocated a seat at Speech Night. Parents wishing to book seats can do so from 9am on Monday 16 October through the Trybooking link on the school website. I encourage you to book early as there are limited seats and the auditorium will fill quickly.
As Term 3 draws to a close, I wish all staff and students a restful break. Enjoy spending time with family and friends. Have a wonderful holiday.
Mrs Fiona Williams