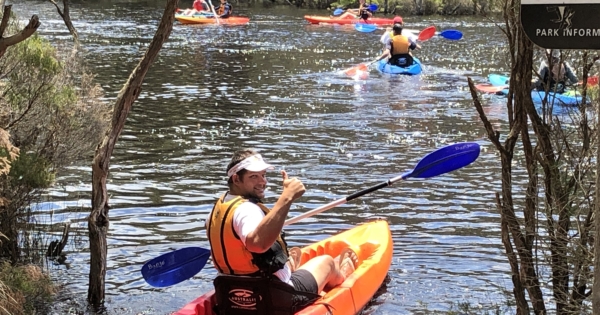 Head of Campus Update – 6 December 2018
'For everything there is a season.'
Depending on your age and upbringing you may recognise this quote from the Bible or from the lyrics of The Byrd's song, however, it seems apt to use this as a prompt for my final note to our community at the completion of the 2018 Academic Year.
A SEASON OF REFLECTION
The end of an academic year prompts a range of emotions, but often finds me in a reflective mood. When I look back over the course of the 2018 Academic year I must admit that it seems like a very long one. Perhaps this has been, as so much has been achieved but also perhaps it is, that like many learning communities, we have experienced numerous challenges.
Our challenge this year was to 'raise the tide' in all that we undertook to ensure that our identity as Berwick Grammar School and all the wonderful things that occur within the School were appropriately evaluated, celebrated and improved. I would like to suggest great progress has been made but there is still much work to do. Such is the challenge of growing a School, we tend to focus on the big tangible achievements without appreciating that it is the sum of many minor achievements that can also have great impact. As I look out my office window, I see the new Sport Complex rising swiftly from the ground. Yesterday I was surprised to see a new housing development, the aptly named Scholars Row appear as a neighbour on our southern boundary.
These are tangible signs of development in what is now becoming a real learning hub in Officer. When I reflect on the many achievements of the year, a recent highlight tends to sum up my enjoyment of education. The smiles on the faces of our boys and staff as we enjoyed somewhat of a carnival day last week tended to me to sum up the year. Lots of energy, exuberance and positivity throughout all boys at the School as they participated in the myriad of activities of Languages Day, experiencing the best of French and Chinese culture whilst an intense cricket match occurred between ourselves and our nearest sporting rival – Minaret College. We are a diverse, tolerant and friendly School and one that provides many opportunities for boys to learn and grow. We have much to be thankful for and I thank all members of our community for their support over the course of the year.
A SEASON OF FAREWELLS AND WELCOMES
At the end of each academic year we farewell the departing VCE Class and also students who for a range of reasons move on to other Schools. We wish those boys and families all the very best for the next stage of their learning journey and remind them that they will always be welcome back at the School to visit or return if they should wish. As our boys depart, my wish is that part of our community and what they have learnt stays with them and provides some degree of compass for them in whatever direction serves them best. We thank all departing students and families for the contribution they have made to the rich tapestry of Berwick Grammar School, in many instances, over long periods of time.
We also farewell and thank members of our teaching staff who also seek to pursue their careers in other Schools. As a learning community which promotes growth and leadership development in our students, so too, do we aspire for our staff to be fulfilled in their professional lives. We have several staff leaving at the end of the year and I am delighted to see the types of roles that they have been appointed to but also the types of Schools. I would like to wish Madame Tranquille (French), Ms Tegan O'Dea (English), Ms Loren Giorgetta (English/Drama), Mr Dennis Rodwell (Science) and Ms Vrakatselis (Humanities) all the very best for their professional journeys and thank them for their contribution to growing our boys and the School.
We will also say farewell to Mrs Robyn Hambly, our wonderful Music teacher and Leader who will also be departing Berwick Grammar School to take up a role at St Bede's College, Mentone. Mrs Hambly has been part of the Berwick journey from day one and her DNA is etched into the fabric of the physical surrounds of the School. The music that will echo across the grounds of this School in perpetuity will have her touch. Over my own two decades plus in education, I regard Mrs Hambly as one of the finest music educators I have seen and I would like to thank her for her service, leadership and influence upon so many boys – those with great talent but also those who have learnt to sing with gusto through her conduction.
I would like to also wish Mrs Sam Quinn (Science Lab Tech) and Ms Zoe Clark (Science) all the very best for their maternity leave. We also have Mr Chittenden and Mr Howard taking some well-deserved long service leave in Term 1.
With departures come welcomes, and I look forward to sharing with our community the details of the new teachers and staff who will be joining us at the start of next year in my first Campus News article next year.
A SEASON FOR FAMILY, COMMUNITY AND CELEBRATION
So in conclusion, as we approach the Festive Season and all the great spirit that it imbues, I would like to thank all those – students, staff, parents and friends that have contributed to making 2018 a successful one.
Ours is a vibrant learning community and I look forward to it continue to flourish in 2019.
Dr Steven Middleton