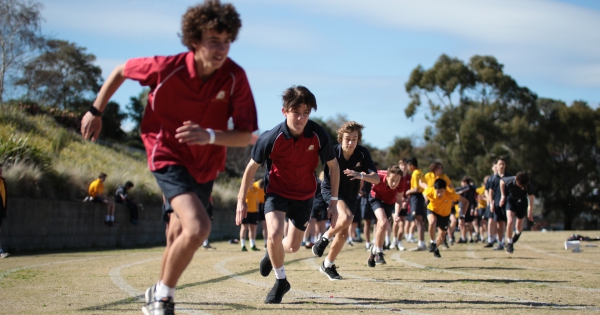 House Athletics Carnival
The BGS House Athletics Carnival was held at SMS on Tuesday 22 August and what a fantastic day it was! The sun was shining, the program ran with fluency and we saw many talented athletes, personal bests and boys stepping up to fill in for events at short notice in order to earn valuable points for their respective houses.
Congratulations to the following boys that achieved the most points in their respective Age Groups:
12 years                 Tex Marsham
13 years                 Jack Pascoe
14 years                 Matt Merrilees
15 years                 Navaal Saeed
16 years                 Ashley Chandrasinghe
17 years                 Jacob Bernard
18 years                 Joel Laycock
The athletes of Richards House performed especially well and again took home the Cup for the second year running, with Battye in second and Forsyth in third. Well done to all participants who will receive points that will contribute to achieving House Colours.
A huge thank you to our PE staff, particularly Mr Bruton and Miss Rabl for the event organisation, the House Convenors Mr Rodwell, Ms Cameron and Miss Vrakatselis and to all other staff members who played significant roles in allowing the event to run smoothly. The SIS Athletics Carnival will be held on Monday 28 August at Lakeside Stadium, Albert Park.
Miss Zoe Clark
House Coordinator