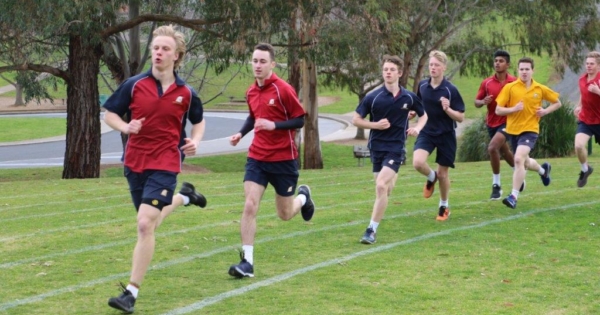 House Aths
The Berwick Grammar School House Athletics Carnival was held on Tuesday 7 August and despite the forecast looking cold and wet, it ended up being a fantastic day.
The day ran very smoothly and I can't thank our incredible team of staff that all played a crucial role for the day to be such a success. It was also great to see our parents coming out to support the boys, especially those watching their sons in their last ever BGS Athletics event.
Our Social Service Captain, Ben Easton, also did a great job leading a team of master chefs cooking sausages on the BBQ to fuel the hungry athletes and to raise money for the Pat Cronin Foundation.
Congratulations to all of the boys who participated out on the track and field, especially to the following boys that each earned the most points in their respective age groups:
U13                    Dion Selimi                         Battye
U14                    Will Hetherington             Battye
U15                    Matthew Merrilees            Richards
U16                    Nathan McDonald             Forsyth
U17                    Joel Clausen                        Forsyth
Open                 Oliver Nichols                     Forsyth
The points were collated within each age group and the highest number achieved from each House were:
U13                                                                    Forsyth
U14                                                                    Richards
U15                                                                    Battye
U16                                                                    Richards
U17                                                                    Forsyth
Open                                                                  Richards
A special mention to Matthew Merrilees who broke the School Records in both the U15 Shot Put and Discus, and to Jason Xue, Kyle Chipperfield and David Charman who all broke the Javelin School Records in the U13, U15 and U17 age groups, respectively.
When the final results were tallied, only 33 points separated Forsyth 1875 and Battye 1908, while Richards continued their winning streak with a total of 2080 points and claimed the winning title of the 2018 BGS House Athletics.
A team will be selected to represent BGS at the SIS Athletics which will be held at Lakeside Stadium in Albert Park on Tuesday 28 August.
Ms Zoe Clark
House Coordinator