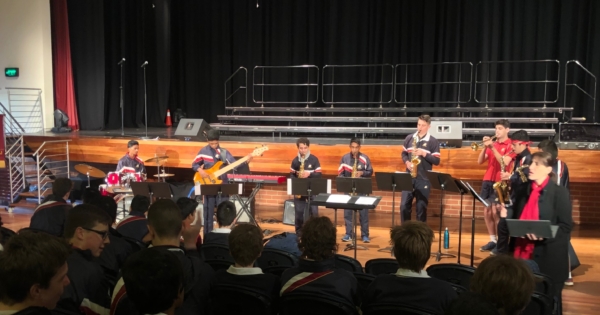 House Music
Dionysus was shining on Monday 9 September when the BGS boys converged on the Rosanove Auditorium. Amidst the chaotic madness and energy of final rehearsals, nerves and jitters sprang forth a fantastic music and performance event.
Somehow the show goes on no matter the obstacles in the way.
Battye dominated in the theatre side, with a tremendous performance of 'Keeping up with the Distons' which tried to answer the question – just how old is Mr Diston anyway?  Ben Scarborough and Joel Owens travelled through time to find out.
Richards owned the Band section with a tremendous instrumental and dazzled the audience with a music video to showcase the set song, 'Jump', by Van Halen.
But Forsyth stole the show with their choir, with every boy singing enthusiastically in both the set song, and their Queen Medley.
In the end it was close with Forsyth pipping Battye for first place.
Watch out for next year when things will be bigger and bolder!
Mr Greg Ashcroft
Head of House – Richards