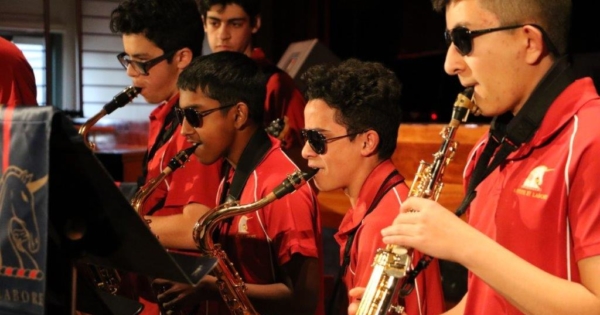 House Performing Arts
The Berwick Grammar School 2018 House Performing Arts Festival was held on the 15 August and was once again, a highly entertaining event. The theme of Australian Rock was voted by the boys and each House performed a group instrumental, a drama scene, the set song You're the Voice by John Farnham and a chosen hit song, each relating to the theme.
Battye was the first House to perform with Munir Kamal on vocals singing Vance Joy's Going Home accompanied by a talented group of Battye musicians. Next we were entertained by the Drama performance Cindy Ella, which told an entertaining and unique version of Cinderella. The chosen song was Eagle Rock by Daddy Cool which showcased vocal solos from Miller Marks-Boulton and Ben Scarborough.
Forsyth's first performance was Ozzy Osbourne's Crazy Train that featured some of BGS's most talented brass instrumentalists. Kaelan Dekker ranted a mash of Aussie rock one liners while trying to motivate his players mid game in the Drama The Suburban Footballer. The iconic hit Land Down Under by Men at Work was the chosen them song, featuring a solo from Achila Perera.
Richards was the last House to perform, opening with an instrumental of Long Way to the Top by the legendary Aussie rock back ACDC, followed by the entertaining skit on Tourism Australia. The chosen song was Never Tear Us Apart by INXS.
While Munir continued to entertain us, the adjudicators had a difficult decision to make.
Congratulations to all of the boys that participated, and a special mention to the following boys from Battye, Forsyth and Richards respectively that were acknowledged for their efforts.
New Talent:                                        Declan Coleman, Achila Perera, Jeremy Mohanraj
Best Musician:                                    Munir Kamil, Jeremy Arifin, Ovin Jayawardana and Sebastian Nugara,
Best Actor:                                          Joel Owens, Jumper 53, Nick Riordan.
Most Enthusiastic choir member:      Callum Borthwick, Kaelan Dekker, Noah Flemming.
The 2018 Kazoo Award was awarded to Ben Inskip for his commitment to rehearsals and his on stage enthusiasm.
When the results were tallied, Richards House took home to House Performing Arts Trophy for the first time since 2010, followed by Battye in second and Forsyth in third.
A big thank you to the adjudicators Mrs Hambly, Miss Giorgetta and Mr Mason the House Convenors, the Music Leaders Aaron McDonald and Nahum Ridoutt that hosted the event and all staff and students that contributed to the success of the morning.
Ms Zoe Clark