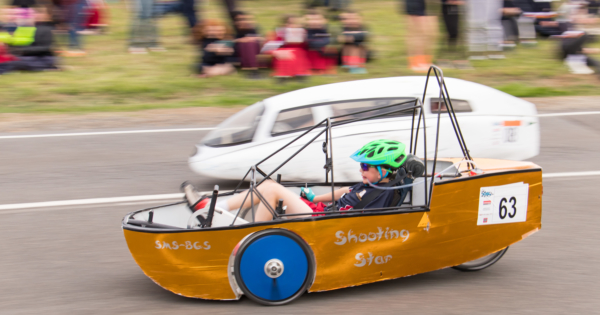 HPV Squad Continues to Perform
The St Margaret's and Berwick Grammar School HPV and Cycling Squad entered 10 teams into round two of the Victorian HPV Series. 60 students participated alongside 12 former students and parents, bringing our total number of participants to 72!
Our junior squad members were represented in two of our teams competing in the six hour event.
In Shooting Star, Mikayla Delardes, Lucas Algie, Lincoln Clamp, James Pursell, Austin Schultz and Maggie Flanders continued to develop their riding skills and stamina. The smiles on their faces as they were riding told the story of how much fun they were having! The completed the event in 14th position in their category.
In Apollo, Amber Flanders, Emily Ford, Sebastian Gosling, Mariska Matin, Lauren Nelson, Jonte Padula, Audrey Pritchard and Sarah Schreurs rode a very strong race to finish ninth in their category.
Thanks to the support of all the students and their families who participated in the event. Our next HPV event is in August. If your child is interested in participating in the program, please don't hesitate to contact me.
Mr Andrew Lardner
HPV and Cycling Coordinator