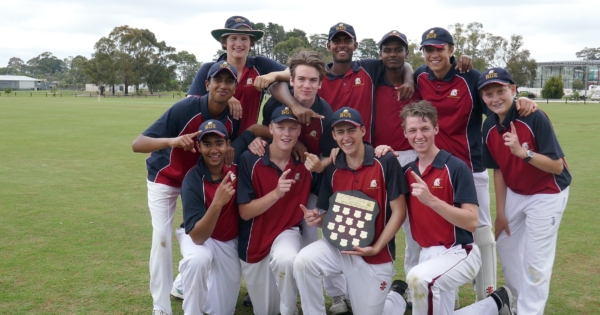 Inaugural BGS vs Minaret College 1st XI Cricket Challenge
With no outdoor cricket competition available for senior students in the SIS competition, our current Year 11 students were extremely keen to have a hit out on the newly revamped Berwick Grammar School Oval.
Our neighbouring school Minaret College was invited across for a 'friendly' fixture where the senior students from each school would play in a 20/20 format to decide the victor.
With captain Riley Clark winning the toss BGS got off to a fast start with opening pair Ashley Chandrasinghe and Chansika Kapakotuwa regularly finding the gaps in the field and eventually the boundary with ease. Although Chansika was dismissed in the 20's, Ashley went on to reach the retirement figure of 50 runs, the only player from either side to do so.
Once Ash had retired, David Charman and Bineth Bandara kept the scoreboard ticking over, and after 22 overs BGS had set an imposing total of 150 runs to chase down.
Whilst Minaret put up a good fight early, they were no match for the depth of our bowling attack, and were eventually bowled out for just 67 runs, well inside of their allotted overs.
A presentation of the inaugural shield along with a BBQ lunch kindly provided by Minaret College capped off a great day, and although the match became one sided in the end, it was terrific for the students and staff from both schools to meet, compete and mingle afterwards.
We look forward to next year's match and hopefully retaining the shield once again in 2019.