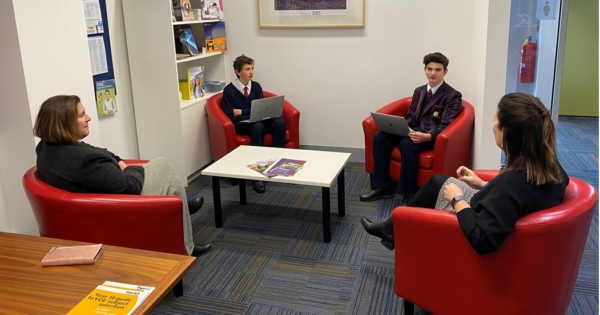 Introducing the Morrisby Profile
We are very excited to have delivered the Morrisby profile to all of our Year 10 students for the first time in 2020.  Morrisby Online is a comprehensive career profiling system that provides an objective measure of a number of aptitudes, as well as describing the students interests and personality. This information is blended to generate suggestions around careers, study areas and VCE subjects they may enjoy and be suited to. All students were required to review the profile results and discuss with their parents.
Mrs McDonald and myself have been enjoying the small group conversations we have had with students around their Morrisby results (pictured). The feedback from the students and parents has been overwhelmingly positive.
Year 10 students are well positioned  moving into subject selection as the Morrisby profile gives them a good information about themselves which enables them to consider possible Careers & the educational pathway -including VCE subjects, possible Tertiary study required to enter the world of work in their chosen field.
"I found that the Morrisby profile gave me a new perspective on my future and job areas I hadn't even considered before. It created really good conversations with my family" – Henry
"I was surprised how accurate my profile came back. I really liked the different occupation recommendations that it proposed. It suggested becoming an accountant and that's an area I am interested in. It was really worthwhile. "  –  Jordan.