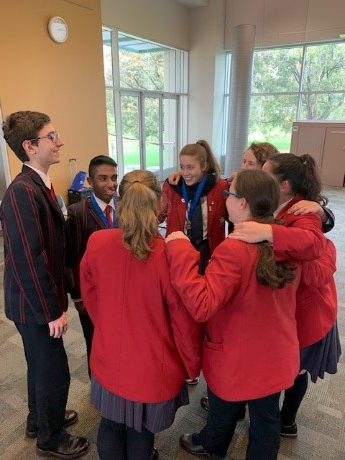 MAV Maths Competition
On Wednesday 14 August, seven Year 9 students from Berwick Grammar and St Margaret's school made their way to Federation University, Churchill campus in Gippsland to take part in a Mathematics Games Day.
Teams of four worked together to answer questions, solve puzzles and play mind-extending games. Our first team consisted of Hugo Gaulke, Ovin Jayawardana, Brianna Munns and Alisha Cawsey. Our second consisted of David Guzenko, Leah O'Sullivan, and Annabelle Morton. As team two were minus a member, they were asked if they were happy to be joined by a student from St Paul's, as they had five in their team. Naturally, this student was warmly welcomed by the team, this is a credit to our friendly school community.
Both teams worked really well together and their hard work definitely paid off. Teams were given the chance to mingle with students from other schools through working in pairs and going head to head in problem solving games, and our students certainly demonstrated their mathematical prowess.
Finally, the relay. Students had about 20 minutes to answer as many questions as they could, each question getting harder as they went on. They retrieved the questions from staff volunteers and returned back to their teams to answer the questions. They then ran (extremely quickly) to check their answers. If they were correct, they moved onto the next question. If not, they were allowed to go back to their team and attempt it up to two more times.
The time flew by and the schools were eager to hear who the winners of the overall day were. It was extremely close – our first team came second to Wonthaggi by just one point. Wonthaggi's other team came third, followed by team two from our school. All in all it was a successful and very rewarding day.
Ms Sophie Healy
Learning Assistant