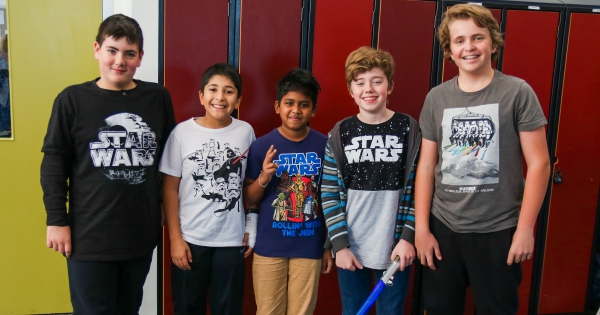 May the Fourth Be With You
It's been forty years since the original Star Wars film first graced movie screens, but with prequels, sequels and the latest Star Wars universe film Rogue One, this classic cinema experience is still finding fans, young and old.  Boys from Year 6 to Year 12 at Berwick Grammar School enjoyed the opportunity to celebrate this terrific science fiction series on our Star Wars Dress Up Day on May 4th, a pun on the iconic quote, 'may the force be with you'.
There were plenty of Star Wars t-shirts on campus on the day, and light sabres helped us all embrace the path of the Jedi.  Congratulations to all the boys – and the staff – who really showed their enthusiasm for the series with some pretty serious costumes.  Several classrooms could have been confused for the Mos Eisley Cantina!
This was followed by an assembly on the following Monday with a video tribute created by a group of Year 12 students.  At the heart of this was a series of interviews not only about the films, but about which teachers were able to use the force.  Favourites included Mr Diston the wise, and Mr Kreibich whose enthusiasm for Mathematics definitely put him firmly on the dark side.
An initiative of our School Captains, we also raised nearly $200 for the Starlight Foundation.