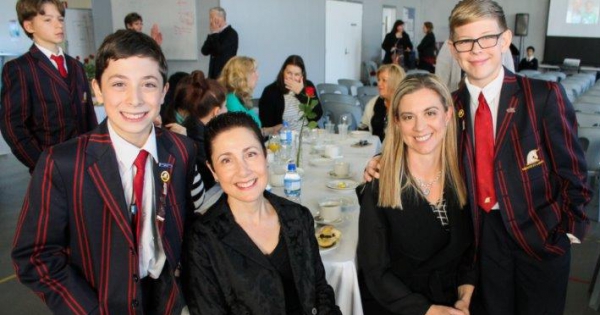 Mothers' Day Assembly
On Friday 12 May, many of the Berwick Grammar School mothers and grandmothers, attended a special morning tea and assembly held in their honour. It was an absolute delight that there could be so many people come along on a frosty morning to join our community in thanking the role that mothers play for us all.
We were treated to music by some of the talented musicians from Year 6, 7 and 8 while we waited for the assembly to commence. Boys and their mothers enjoyed the feast of fresh scones, fruit and pastries together with coffee and tea.
Assembly was hosted by the highly capable Patrick Mohanraj who fulfilled the role of Master of Ceremonies with aplomb. Our speakers: Harrison, Matthew, Trent, Harrison, Fletcher and Andrew spoke beautifully and eloquently about their mothers and the impact that they have on their lives.
Andrew's heartfelt speech of love and courage about his mum, brought a standing ovation for them both, together with some much needed tissues for the tears. Benjamin rounded off the gathering with a light-hearted song that had many smiling and laughing along.
It truly was a lovely morning of reflection of all the mothers of the BGS community and the incredible job that they do.