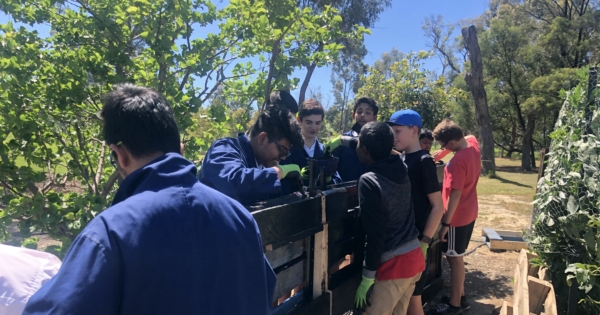 Orientation Day
The whole school was abuzz on Tuesday 29 October, with the excitement of welcoming our Year 7 students for 2020 into our community.  Even the weather reflected just how bright their futures look at BGS.
The day began with information session – with parents spending time with Dr Middleton discussing issues and opportunities with boys education, and the future Year 7s getting the know their Houses, their Peer Mentors and life at the school through a Question and Answer session with Ms Cook and the 2020 Captains, Navaal Saeed and Oliver Ward.
Then, during an official assembly, they were welcomed to the school and inducted into their Houses with the presentation of a badge.
In the afternoon, the students began a number of projects with Heads of House.  Mr Lardner showed many delighted boys the Human Powered Vehicles that are designed by students in the team.  Mr Ashcroft encouraged boys to contribute to the design of a House Art Project for display in common rooms in 2020.  But full credit goes to Ms Lewis for the huge effort she and her team but into preparing an opportunity for the boys to work with peer mentors to build a vertical garden which will be cared for by boys in the Environment Team.
It was a brilliant day, and we cannot wait for these boys to continue on with their BGS journey in 2020.
Ms Lauren Cook
Head of Senior Boys, Wellbeing