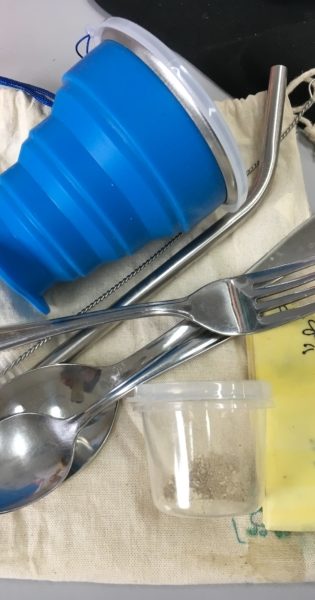 Plastic Free Term 3
Once again Berwick Grammar School is attempting to reduce its single use plastic use by participating in Plastic Free July – Term 3 (has a better ring to it).  Plastic Free July is an environmental awareness movement that began in 2017.  It was introduced by Rebecca Prine-Ruiz founder of The Plastic Free Foundation and a small group of Western Australian local government.  It was in response to the growing effects of plastic pollution on sea life, a crucial aspect of Western Australian tourism.  As a result of their campaign West Australia no longer has plastic straws and Fremantle will ban the use of helium balloons this year (YEAH).
At BGS since 2017 we have made a few small but significant changes.  We no longer have plastic straws, or any food served in polystyrene at the canteen.  We have 5 working trays of worms and a large compost.  In addition, we introduced the SMSBGS Keepcup, to reduce the use of single use coffee cups.
This year we are focusing on reducing the use of the following items:
Coffee cups – bring your own cup.
Forks/spoons/straws – bring your own or use bamboo or another compostable alternative.
Small packages of food like – chips, biscuits, yoghurts, chocolate and other snack type foods.  Bake your own, bring in beeswax wraps or hard plastic containers that can be reused.
Water bottles – bring your own and refill at our bubblers.  Think about this outside too, take your own bottle to the football, no need to buy one.
Sauce packages – there is BBQ sauce and tomato sauce in the Forsyth office, come and take some.
I (Ms Lewis) have volunteered to wash up any cups, forks or spoons that boys might have after lunch.  Just drop them off and pick them up at the end of the day.  In fact, boys are welcome to come and make their own plastic free kit that suits them.  I will supply the bag the boys just put their labelled kit in.  A photo of the suggested kit is attached to this article.
Small steps lead to big systemic changes.  Just think, in the 1980s we didn't even have recycling and whilst we are currently in a 'recycling crisis' we can choose to refuse many items thus rendering them unnecessary in the future.  We can change, we can make a difference, together our impact will be significant.
CHOOSE TO REFUSE – SINGLE USE PLASTICS – FOR YOU AND THE PLANET!
Further information and resources are available at:
https://www.plasticfreejuly.org/
Ms Delanie Lewis
Head of Forsyth House (and mild environmentalist)