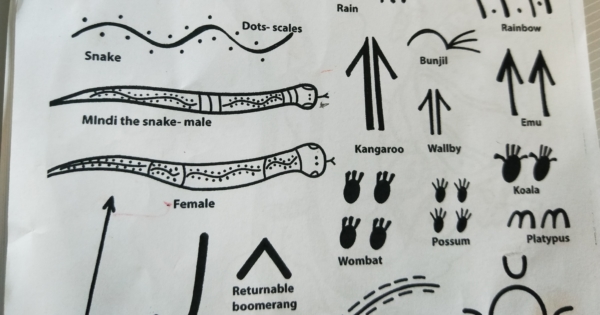 Reconciliation Art Project
On 10 May, a small working group of Berwick Grammar students with a keen interest in writing and art, met to conceive plans for an art project.
This project was an exciting opportunity for student from different year levels to work together with a respected elder from our local indigenous community.
We were able to learn about the distinct characteristics of the Wurundjeri, and about the unique nature of each Indigenous nation within Australia. Some interesting aspects of this included our local creation stories, our local art and our local animal signs. These ideas pervaded the designs that emerged, which also aimed to show the history of our campus and the values that our school holds.
Those involved brainstormed ideas and drew sketches to illustrate their ideas, and were also given the opportunity to chalk up some designs in the spaces outside the Middle School building. Contributions were exciting, and insightful, reflecting both a strong understanding of Wurundjeri identity, and encapsulating what it means to be a young man of Berwick Grammar School.
The next stage in this project will have these boys present their plans to Dr Middleton in a formal project pitch.
Our hope is that this art piece can serve as a symbol of the rich history of Berwick Grammar, as well as a symbol of reconciliation between the Berwick Grammar community and the traditional owners and spiritual custodians of the land we occupy.
Mr Sean Pieper
my Summit- Co-Cultural Coordinator