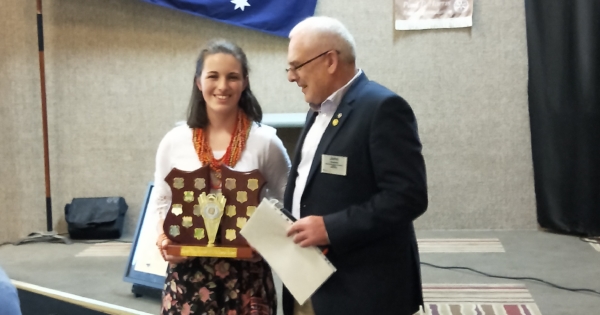 Rotary Model United Nations Presentation
On 31 July, the Rotary Club of Pakenham invited Mr Sean Pieper and St Margaret's student, Meagan Hansen, to speak about their experience at the Rotary District 9820 Model United Nations Assembly (MUNA). This formal dinner, held at the Pakenham Golf Course, served as an opportunity to thank the Club for their ongoing sponsorship of our school in sponsoring us to attend this fantastic event.
Mr Pieper began the evening by discussing the intrinsic value of MUNAs from a teacher's perspective, in terms of the type experiential learning that occurs over the three days of debate. He discussed the potential of MUNAS to "open students' eyes to the complex nature of an increasingly globalising world", while helping to develop confidence, public speaking ability, communication, collaboration and networking skills. He also noted the strong academic and character development that occurs in students who return from MUNA, who return as precocious, well-rounded, active citizens of the global community.
Meagan discussed the event from a student perspective, recounting her experience of participating in MUNA and of winning the Perpetual Peace Prize (awarded to the delegation that most effectively promotes peaceful resolution to conflicts and international cooperation). Whilst acknowledging the stress and hard work, she spoke fondly of the social aspects, as well as the way that MUNA ignited a passion for global politics and sparked a desire to experience the world. Meagan now wishes to pursue Global Politics as a VCE, and while her future is still undecided, would like to work for an international organisation like to one day work for the real-world United Nations.