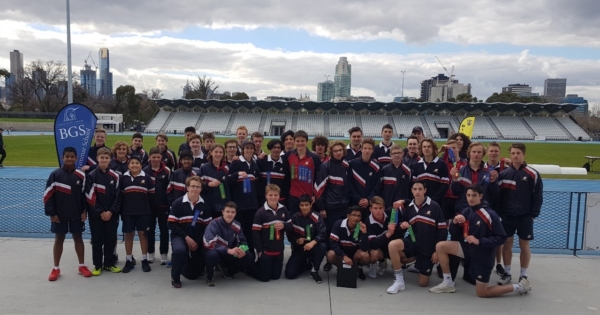 SIS Athletics Carnival
The 2018 SIS Division B Athletics Carnival saw six schools descend upon Lakeside Stadium in Albert Park for a day filled with fun and competition. Our Berwick Grammar School squad, comprising between 5 and 10 students from each year level were fresh off their BGS House Athletics Carnival a few weeks earlier and were determined to excel on the day.
From a team perspective we had some good results across the board, with our Open age team, finishing in 2nd place and our Under 15 and Under 17 squads both securing the Pennant as SIS Champions. These great efforts by each individual team lead to our school coming a very close second to St John's College in the overall boy's aggregate award.
We also came 1st in the SIS Merit Award.  This is a points per capita award, where the school's total points are divided by the amount of students enrolled at the school. We scored more than double the points of our nearest rival, which was another example of BGS 'punching above our weight'.
This carnival also saw some exceptional individual performances. Matthew Merrilees of Year 9 won the 200 m, Shotput and Discus for his age group, and also broke the BGS Record for the Under 15 400 m race on the day. Year 11 student David Charman won two events, the under 17 Discus and the Open age Javelin where he set a new BGS record.
Other students who became SIS champions at the carnival were Under 15 students James Gallie in the 100 m, and Miller Marks-Boulton in the Triple Jump as well as 800 m specialists Cooper Wright (Under 16) and Joel Clausen (Under 17). In addition to these individual success stories, the Under 15, 4 x 100 m relay team ran an amazing race to cross the line in 1st place which really demonstrated the tremendous depth within that age group.
In his first SIS carnival back after a year overseas, Year 11 student Alex Kraan worked tirelessly throughout the day. His five individual events saw him collect four ribbons along with a third place as part of the 4 x 100m relay. The highlight of these five events was the Open Age triple jump where he set a new BGS record by jumping 11.86 metres and finishing in first place.
These achievements are the result of great dedication, effort and training by all members of the squad and I would like to congratulate all of our students for the way that they represented Berwick Grammar School at such a big event.
Mr Nicholas Bruton
Sport Co-Ordinator