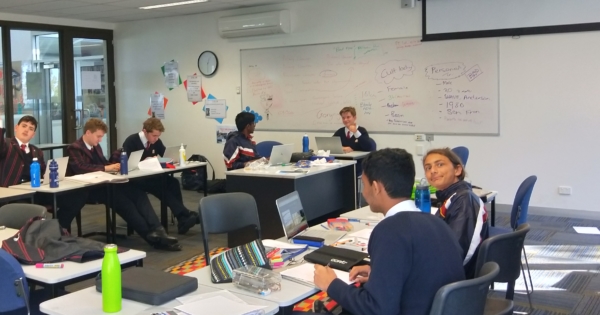 SIS Book in a Day Competition
On Tuesday 14 August, Berwick Grammar School hosted students from St Francis Xavier (Officer) and St Francis Xavier (Berwick) for the SIS Book in a Day Competition.
This exercise requires teams of eight students, from Year 7 to Year 10, to work collaboratively towards creating an illustrated novella, complete with cover pictures, a blurb and illustrations throughout.
Yiorgo Millas and Nithika Siriwardana did the expert illustrations, and showed great teamwork in working to complement each other's style. The book was written as a result of the combined effort of: Declan Coleman, Miller Marks-Boulton, Kurt Caddy, Januk Gamage, Max Walton Briggs and Dylan Wijayakoon. These boys worked under intense pressure to tie all the elements together, working up until the very last minute to have the novella edited, formatted and published.
The novella will be initially judged and voted on by Year 7 and 8 students throughout the three schools, according to how well planned and executed the story is, as well as whether there is consistency of tone; plot and characterisation. This is an excellent way for our young boys to engage and appreciate both creating literature and critically analysing it in a meaningful way.
Ultimately, the top four novellas produced in the competition will go to Scholastic Australia for judging.
Best of luck to these aspiring novelists.
Mr Sean Pieper