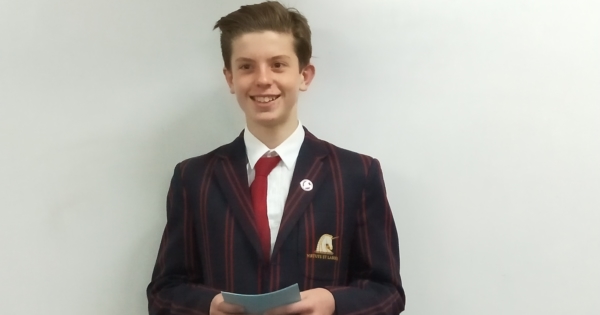 SIS Public Speaking
The SIS Public Speaking Competition was held on Tuesday 7 May at John Paul College in Frankston. As our Year 10 cohort was busy with work experience, and our Year 9 cohort were completing their Alpine Endeavour, we relied upon a small but dedicated handful of Year 8 students to represent us in this competition.
The boys were required to prepare a speech on one of four possible topics: "Are mobile phones a valid educational tool?", "Playstation is ruining the playground", "My hero is…", and that "We should end the production of plastic." The diversity of these choices led to an eclectic range of responses, and an impressive array of talent from young people throughout the SIS group.
For some, this was their first experience in a formal public speaking setting. For others, it was a chance to act on feedback they have received in the past and try out new tricks for engaging their audience.
Our boys did very well in their prepared speeches for the day, although the impromptu speech section was a new challenge for many, and one that takes much practice to master. They will have certainly learned from the experience, and will be more confident speaking in public as a result.
We look forward to seeing them continue to participate in great opportunities such as these, and to watching their continued progress throughout the years ahead.
Mr Sean Pieper
Cultural Coordinator