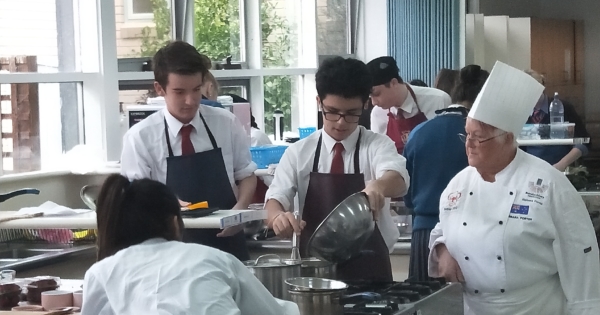 SIS Teen Chef Competition
The SIS Teen Chef competition was held at St John's Regional College in Dandenong on Monday 6 August. The Australian Culinary Federation (ACF) facilitated this event, offering the services of highly accomplished Australian and internationally renowned chefs in judging the students' efforts in this competition.
This year's theme was Vegetarian, forcing our aspiring chefs to work outside of their comfort zone. The results, however, were fantastic. The judges commented on the professional nature of the students participating, as well as the sheer quality of the food they produced.
All teams had only 100 minutes to prepare all of their ingredients, as well as cook and plate their dishes.
The dessert team cooked delicious bite sized donuts with a velvety chocolate sauce, while the mains team tackled the difficult task of making quality vegetarian meatballs. These did not disappoint.
The boys walked away with a bronze medal for their efforts, and significantly, they improved on the performance of last year's teams by a margin of five points.
Well done to these budding chefs.