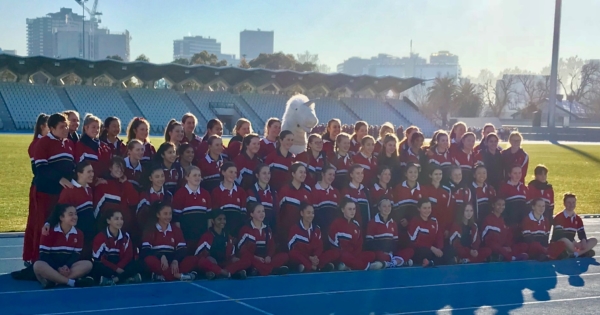 SMS Sport
Sport at SMS in Term 3 has been extraordinarily successful with a number of teams and individuals achieving great success.
The Track and Field team recorded the first ever victory by St Margaret's at a GSV Athletics Championship Carnival, a monumental occasion for all involved. Having previously claimed the Population Trophy at the Preliminary Carnival, a measure of strength for our size, the team displayed true grit and determination to rise to the occasion on Championship Carnival day to win the overall Division 3 Premiership as well as the Senior Age Group trophy. St Margaret's then went on to be represented in 17 events at the prestigious finals night, which showcases the top 8 athletes from each event across all 24 GSV schools. Claudia Eibl of Year 8 and Elizabeth Day of Year 10 both took home silver medals in the 800m and the Shot Put respectively.
The Senior Volleyball team continued their incredible winning streak to win the A Grade Premiership at MSAC on Monday 10 September. The girls easily accounted for Strathcona in the semi-final and went on to defeat MLC in straight sets in a competitive grand final. These girls are now undefeated in all GSV matches for the past 3 years which is a fantastic accolade.
The Junior Volleyball team showed their strength throughout the season to become Zone Champions, having been undefeated in home and away matches. Our girls lost at the semi-final stage but recovered to win the 3rd place playoff and show plenty of promise for the future.
The Senior Aerobics team have trained tirelessly all year under the direction of coach Katie Martin. At the National Championships on the Gold Coast in August the team placed 3rd in the country whilst Ashlee Duhau of Year 9 became the National Champion in the highly competitive solo section, also placing 2nd in the audition section.
Congratulations must also go to Rachel Bright of Year 11 (soccer) and Grace Davis of Year 12 (volleyball) who have been selected as part of the GSV Representative Teams who will compete against other sporting associations in the tri-state challenge later this year.
Mr David Bennett – Head of Sport.