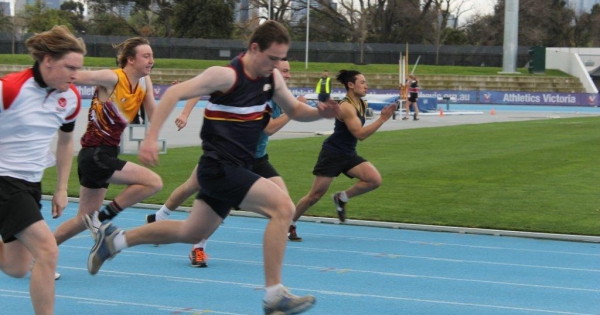 Sporting Achievements
Term 3 ended on a high for our SIS Athletics team who performed extremely well at the Division B Athletics carnival at Lakeside Stadium in Albert Park. Our Under 13 boys capped off a terrific year of carnivals by completing a clean sweep of pennants, adding the athletics pennant to those already won at the cross country and swimming carnivals this year. An outstanding effort by a dedicated group of students. To add to this team success, we saw some fantastic individual results with many of our students winning their respective events to become SIS Champions for 2016.
Matthew Merrilees of Year 7, Caydn Lane of Year 8 and Jordan Carthew of Year 12 all won 2 events, whilst our other winners on the day were James Cameron, Kyle Chipperfield, Will Curtain, Ted Purcell, Michael Battye and Oliver Nichols. A big congratulation to all who represented Berwick Grammar School on the day.
In late Term 3 and early Term 4, we also took teams to represent BGS at both the inaugural SIS Golf day at Cornish College, and the Victorian All Schools Badminton Tournament in Altona North.
Both events were great opportunities for students to compete in sports not offered as part of SIS weekly sport program. Whilst we did not secure any victories at either event, the foundation has been laid for improvement next year and the events were enjoyed by all involved.
Our Year 5 and 6 students were also afforded many sporting opportunities in the latter stages of term 3. We fielded teams in the State Badminton Championships and the NRL Rugby League gala day. Both our Year 5 and Year 6 teams competed ferociously in this less familiar sport with the Year 5s finishing second in their pool and the Year 6 team winning and successfully progressing to the state finals later in term 4.
Athletics has also dominated the sporting landscape in Term 4 for our younger boys. A mixed junior school team consisting of 21 BGS students competing at the SSV District carnival with six progressing to the Divisional stage of competition. Brayden McEwen finished first in the 200m at the subsequent SSV Regional competition and has successfully qualified for the state finals.