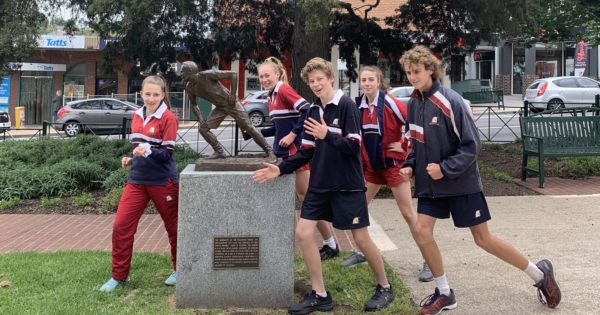 The Year 9 Amazing Race
Fortune favours the bold and with the decision to go ahead with the race, the weather held off for the inaugural Cross Campus Year 9 Amazing Race. This event combined the Houses from both campuses into teams with their respective counterparts.
The playing arena of the Old Berwick area awaited them as the teams had to decipher clues, plan their path of attack and complete two road blocks along the way. The road block title 'The Nut Stacker' was located in Pioneer Park and required a person from each team to stack five nuts on top of each other using only a BBQ skewer and one hand. Yiorgos from Team Forsyth-Gipson had the steadiest and fastest hand doing it in 17 seconds.
It was a close race with only five points separating 3rd and second. Teams from the newly formed Battyebelles (Battye and Campbell) took out second and third. The finish came down to the wire. Would Forsyth-Gipson swoop in at the end and take first? Would Team Richie Cunningham (Richards and Cunningham) stop the charging Battyebelles?
Taking out the inaugural Cross Campus Amazing Race for 2019 was Team Richie Cunningham consisting of Ovin, Sebastian, Poppy, Caitlyn, Mia and Zali with a near perfect score of 220 points.
Thank you to the staff who helped with the Road Blocks and supervising the arena. Thank you to the Year 9s for your participation.
Mr Greg Ashcroft
Head of Richards House