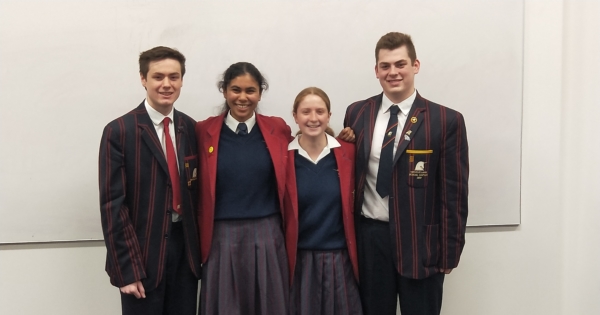 VCAA Plain English Speaking Awards
On Monday 20 May, St Margaret's and Berwick Grammar School participated in the Regional Finals for the Plain English Speaking Awards, which was kindly hosted for the first time by Mentone Girls' Grammar School. This competition encourages students to research and prepare a speech in accessible English, on an issue that they are passionate about. The expectation is that these speeches are delivered with incredible public speaking manner, structure and depth of research.
Participants in this competition are among the most skilled and highly accomplished high school students from Independent, Catholic and Government Schools throughout Victoria.
St Margaret's Senior School was represented by Jessica Elfick who spoke about an identity crisis in modern interpretations of feminism, and Emily Ferdinands, who spoke about 'How technology is affecting young people's lives.'
Berwick Grammar School was represented by Mathew Kent, who delivered a speech on what it means to be 'a Good Man vs a Real Man,' as well as Oliver Ward who examined the limitations and lack of transparency of the Victorian judicial system.
These sophisticated speeches were delivered with polish and passion, with the scores separating speakers being incredibly close. Unfortunately, we did not leave with first or second place. However, our students were still grateful to receive feedback on their performance, with the view of improving their abilities before next year's contest.
Students were also required to demonstrate their quick, critical thinking skills, as they were sent to quickly write impromptu speeches, based on the prompt, 'Time will tell.'
In preparation for this task, they were provided with very extensive advice about how to structure speeches and how to prepare authentic content in a very short time frame. This mini lesson was quite valuable, suggesting new approaches to speech writing under pressure. These kinds of skills are invaluable.
We are grateful to VCAA for providing this valuable opportunity for our students, and we look forward to next year's competition.
Mr Sean Pieper
My Summit Extra Curricular Enrichment Coordinator