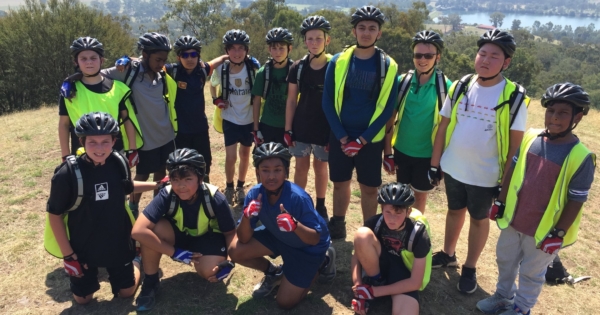 Year 7 Camp Highlights
Students arrived at School at 7.30am for an 8.00am departure, ready to embark on a journey to connect with themselves, their group and their environment around them!
Behold! They faced challenges that pushed them further, beyond what they thought they were capable of. They were involved in a wide range of activities: bush walking, camping, cycling, high ropes, and rafting.
On the first day students had the opportunity to set up their tents and hiking bags. They were taught how to rationalise food portions to last the week. They were also involved in team building games through which they were required to communicate effectively with one another in order to achieve the desired end goal. 'Careful! Everyone needs to fit on the mat!'. The mat suddenly began to become smaller and smaller at each interval.
Students were divided into three groups; their responsibilities rotated each day. Group 1 was responsible for preparing and cooking the meals, Group 2 was responsible for cleaning, and Group 3 got to relax! Imagine that!
Day 2: Students went bush walking with their hiking bags to Wanggai. They evenly distributed the camping gear and food amongst each other. We spoke about the difference between equality and equity. The students decided that it was fair to help those that were really struggling to carry their load. We are the men of BGS! Two volunteered to take on extra gear! Upon arrival, they set up camp and began to cook!
Day 3: Wednesday comprised of mountain bike riding. There were three tracks: easy, medium and hard. The tracks were inspected by the OEG leader and we walked the hard tracks. Each and every student should be proud of themselves for completing the track and riding back to Camp Eildon!
Day 4: Thursday, this is the day that all the students eagerly waiting for! Rafting in the Goulburn River! It was a perfect day for a swim! Individuals in each raft were required to work together as well as listen to and communicate with one another.
JP ~ 'My favourite part of the Camp was rafting because it was fun. I like playing in water. It's fun having a small group of people in a raft and there were a lot of activities that we did'.
Cody ~ 'Bike riding was my favourite part of the Camp. Everyone was worn out and very happy when they saw the end! It was amazing to see everyone's faces when we got back and everything we had achieved'.
Joe ~ 'My favourite part was biking and rafting. Rafting because the games we played were fun and we got to jump onto the other raft. I liked biking because it was challenging. The BMX track had lots of turns and there were a lot of up and down hills.'
Aarya ~ 'I loved spending time with my friends inside the tent. I liked it because I got to know them better, what they do and don't like'.