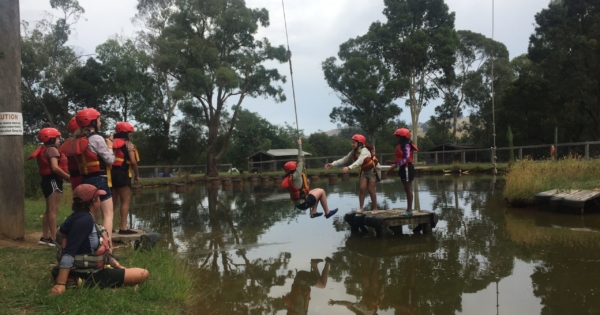 Year 7 Eildon Camp
There was a mixture of feelings as students waited in anticipation for camp. Some were feeling 'nervous', 'excited', 'worried' and 'enthusiastic'. But before students knew it, the adventure had begun.
White-water rafting was a highlight for many, with squeals of delight as they glided down the rapids and paddled with all their might to enter each eddy safely. While the high ropes course was a daunting challenge, all students put in their best effort to reach a goal of which they could be personally proud. The highs and lows of mountain bike riding were met with resilience and determination as students encouraged and supported one another to reach their destination. It was great to witness the students working together, sharing camp responsibilities, making new connections and sharing a bond that will be remembered.
After the nerves at the beginning of camp, some students reflected that they felt 'happy and made friends', 'it was fun and I learnt a lot', 'relieved', 'proud to have achieved every camp activity', 'sad that I had to leave', and 'tired'. Each student should feel proud of their personal success and achievements throughout the camp.
Congratulations Year 7s on a great start to the year!
Mrs Bronwyn Huisintveld