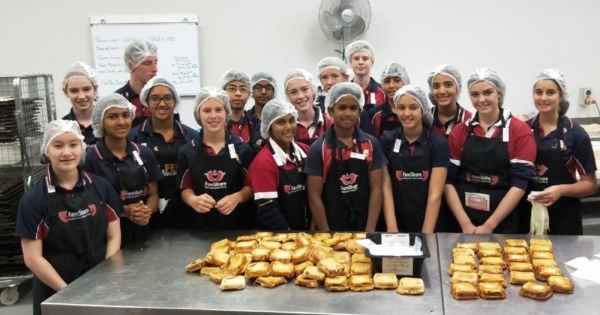 Year 9 City Cite Experience
Our Year 9 students enjoyed their experience in the city during their first week of City Cite. They have been travelling via train each day to their City Cite office where they have been working on their Big Question, which they will present to their families this Friday night at the Presentation Evening. When the students have not been working on their Big Question they have been getting an understanding of our capital city by visiting Parliament House, The Shrine of Remembrance, The Magistrate's Court, The Big Issue and playing a part in helping those less fortunate by preparing, cooking and packing over 1000 meals at FareShare. Students have been asked to complete reflections on their experiences at various point over the last week. Below is an example of a reflection.
Mr Andrew Lardner
Head of House, Battye
The worker in the picture above is meant to represent the people who built Melbourne. They remain genderless in truth, everyone builds Melbourne in some way. It may be in the form of constructing a skyscraper, to arguing in Parliament House, to working in a homeless shelter, to simply selling the Big Issue magazine, we all build Melbourne in some way. The worker is bigger than Flinders Street Station because while that's what Melbourne may seem on the outside, just fancy buildings and transport, they are the overall sight of Melbourne.
I added Flinders Street Station because it is seen as the hub of Melbourne. It's the way people can see the rest of Melbourne, while remaining to the hub of its city heart. It's the way people can get around and see the rest of it.
I decided to keep this piece a sketch, because it is meant to represent the fact that Melbourne still has a lot of progress to do to become a truly finished piece. Even though we are one of the most liveable cities in the world, we still have record amounts of homelessness and other problems of sorts. If we can just fix those problems, then that way it could be seen as a finished piece.
Declan Coleman