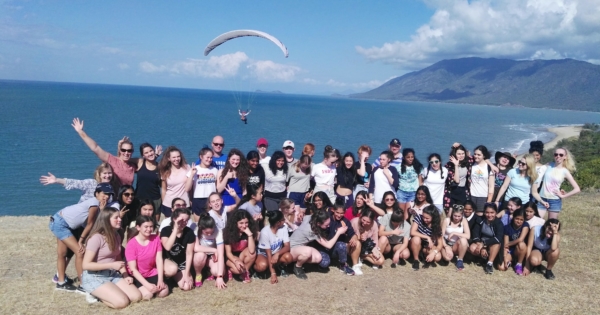 Year 9 Reef Journey
Two comments overheard on the Year 9 Reef Journey: 'This is best camp, EVER', 'I love learning'.
Our third Reef Journey was a great experience for our Year 9 girls who were immersed for 5 days in two of Australia's most special places: the Daintree Rainforest and the Great Barrier Reef. This has become much more than a camp. It is now a genuine, authentic and immersive learning experience. As each student experiences these environments for themselves their opinions about them change. They become much more than a place for a holiday but a precious, fragile part of their world and they begin to feel protective towards them. This was never more evident when spontaneous cheering broke out with the sighting of a cassowary, one of the most endangered birds in the world.
In the Daintree Rainforest we swam in freshwater streams, walked along the beaches of the Coral Sea, climbed into and above the canopy of the forest, fed wallabies, met the indigenous people of the region, spotted crocodiles and cassowaries and lived for a few days with the sounds of rainforest birds all around us.
Back in Cairns we took a bush tucker walk with an Aboriginal elder and visited the James Cook University marine biology labs for an amazing experience with stone fish, clown fish and other reef inhabitants. We also strolled through the mangroves and learnt about their vital role in filtering water and protecting the land. We spent a full day on Fitzroy Island, snorkelling amongst the coral, fish, turtles and even a reef shark of the Great Barrier Reef.
The students were wonderful ambassadors for our school and drew positive comments from our guides, accommodation providers and even random members of the public. It was a real pleasure to spend six days in Far North Queensland with each of them.
Mr Mark Easton
Geography teacher