The mySummit Program at St Margaret's Berwick Grammar aims to enhance the learning of all students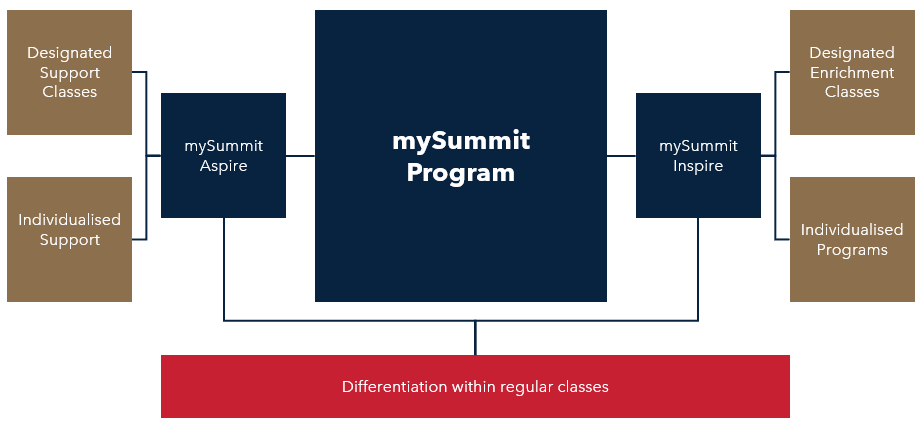 Students learn best when the learning is taking place at an appropriate level of challenge and relevance for them. Opportunities are offered within the mySummit Program to enhance the education for our students of varying levels of achievement and styles of learning. We embrace the learning diversity of our students in our dedicated program that is designed to equip, prepare and inspire each student throughout their own unique learning journey. The direction of each student's pathway determines decision making about how individual learning is differentiated.
Students are selected to be involved in the targeted programs within mySummit in consultation with staff, parents, and the students themselves. Specific learning challenges and strengths are identified through a variety of data. Our dedicated team of teachers spend time getting to know the students, making sure they are familiar with how individual students best learn, what their interests are and what motivates them. Learning profiles are created, and programs and activities are designed to cater accordingly.
Individual goals form a vision and focus for each student within the program, and assist them to take ownership of their learning. Personalised Goal and Action Plans are written by the students in consultation with relevant teachers.  Realistic goals are defined and actions are specified that will assist the students to achieve their goals. With the plans being regularly monitored and reviewed, it is a proven way for students to have direction for, and ownership of, their unique learning pathways.
Support Programs
provides support for students with specific learning needs and challenges. Tools are made available and assistance is given to improve the learning of each individual student. Students are guided to engage in a dialogue that enables them to understand their own unique learning style and to value themselves as learners.
A variety of approaches are used to help students to access strategies that enhance their knowledge and strengthen their skills. Support is provided to develop effective skills across different curriculum areas, as well as to improve study skills and organisational techniques. The mySummit – Aspire Program is targeted to meet the individual and diverse learning needs of our students, and takes place in dedicated small group classes, as well as within regular subject classes.
Enrichment Programs
aims to empower our highly able students to reach their personal best. Opportunities are provided for students to work with like-minded peers, benefiting them socially and academically. We acknowledge that highly able students have a capacity to learn at a faster rate, that they are able to readily make connections within and across disciplines, and that they have the aptitude to identify and capably solve problems. Educational experiences are enriched as the students are challenged to develop the depth, complexity and abstractness of their thinking and their skills of problem solving, creativity and collaboration, whilst tapping into their interests and passions.
Co-Curricular Opportunities
Co-curricular opportunities provide a variety of challenging and stimulating experiences for our students throughout the school year. Students are involved in an extensive range of competitions and cultural events, targeting a diverse range of abilities and interests. The following is a sample list of some of the activities available:
Debating
Chess
Public Speaking Competitions
Model United Nations Assembly (MUNA)
ICAS Competitions
History Enrichment
Mathematics Challenges
Writing Competitions
Robotics