VCE Literature focuses on the meanings derived from texts, the relationships between texts, the contexts in which texts are produced, and how readers' experiences shape their responses to texts.     
In VCE Literature students develop and refine four key abilities through their engagement with texts. These are:  
an ability to offer an interpretation of a whole text (or a collection of texts) 

 

an ability to demonstrate a close analysis of passages or extracts from a text, in consideration of the whole text

 

an ability to understand and explore multiple interpretations of a text 

 

an ability to respond creatively to a text.

 
Students are provided with opportunities to read deeply, widely, and critically; to appreciate the aesthetic qualities of texts; and to write creatively and analytically. 
VCE Literature enables students to examine the historical, social, and cultural contexts within which both readers and texts are situated.  
Area of Study 1: Reading Practices –Euripides' ancient Greek play Medea. Students have opportunities to critically examine the ways readers apply their own context in drawing interpretations and posing questions of the authorial intent and permeating themes of gender norms, loyalty, power of mythology and the destructive nature of ambition, hubris and hamartia and Ancient Greek society. Students practice the skill of reading against the grain and apply various lenses. Students construct questions to run a literature trial and cross examine protagonists, holding them accountable for their criminal and moral actions.    
Area of Study 2:  Exploration of literary movements and genres. A selection of poetry written to study the Romantic Period and poets. The examination of the Romantic movement conventions and period leads into a deep dive into Mary Bysshe Shelley's gothic science fiction novel Frankenstein, or The Modern Prometheus. Students draw connections to the Romantic period ideals, explore pertinent themes like ethics in Scientific development and innovation, apply a feminist lens to the text, examine the narrative structure and the sublime in gothic in close analysis of key passages and also craft a creative response. Responding creatively requires a close analysis of the text which provides scope to take on an alternative perspective and consider setting, characterisation, voice, views, and values in the process of writing creatively.   
Area of Study 1: Voices of Country
In this area of study students explore the voices, perspectives and knowledge of Aboriginal and Torres Strait Islander authors and creators. They consider the interconnectedness of place, culture and identity through the experiences, texts, and voices of Aboriginal and Torres Strait Islander peoples, including connections to Country, the impact of colonisation and its ongoing consequences, and issues of reconciliation and reclamation.   
Students examine representations of culture and identity in Aboriginal and Torres Strait Islander peoples' texts and the ways in which these texts present voices and perspectives that explore and challenge assumptions and stereotypes arising from colonisation.  
Students acknowledge and reflect on a range of Australian views and values (including their own) through a text(s). Within that exploration, students consider stories about the Australian landscape and culture.     
Texts for study in this AOS are:
Tara Winch's Short story anthology After the Carnage 
Multimedia texts exploring Postcolonial voices ABC Drama series 'Total Control'  
Voices of country through award winning First Nations poetry Drop Bear by Evelyn Aurelean 
Areas of Study 2: The text in its context.  In this area of study students focus on the text and its historical, social, and cultural context. Students reflect on representations of a specific time period and/or culture within a text. 
Students explore the text to understand its point of view and what it reflects or comments on. They identify the language and the representations in the text that reflect the specific time period and/or culture, its ideas, and concepts. Students develop an understanding that contextual meaning is already implicitly or explicitly inscribed in a text and that textual details and structures can be scrutinised to illustrate its significance. 
Students develop the ability to analyse language closely, recognising that words have historical and cultural import.  
Students read and study Elif Shafak's novel 'The Island of Missing Trees' and have the opportunity to apply a postcolonial, feminist, and ecological lens. 
Area of Study 1 Adaptations and Transformations
In this unit students consider how the form of a text affects meaning, and how writers construct their texts. They investigate ways writers adapt and transform texts and how meaning is affected as texts are adapted and transformed. They consider how the perspectives of those adapting texts may inform or influence the adaptations. Students draw on their study of adaptations and transformations to develop creative responses to texts. Students develop their skills in communicating ideas in both written and oral forms.  
The reading and examining of Shakespeare's Othello and the study of the National Theatre performance of the play immerses students into a study of how a classic text can be adapted for the stage and transformed by a different set of conventions and reimagined in diverse ways to zoom in on a myriad of features and views.  
Area of Study 2: Developing Interpretations
In this area of study students explore the different ways we can read and understand a text by developing, considering, and comparing interpretations of a set text.  
Students first develop their own interpretations of a set text, analysing how ideas, views and values are presented in a text, and the ways these are endorsed, challenged and/or marginalised through literary forms, features and language. These student interpretations should consider the historical, social, and cultural context in which a text is written and set. Students also consider their own views and values as readers.  
Students then explore a supplementary reading that can enrich, challenge and/or contest the ideas and the views, values, and assumptions of the set text to further enhance the students' understanding. Examples of a supplementary reading can include writing by a teacher, a scholarly article, or an explication of a literary theory. A supplementary reading that provides only opinion or evaluation of the relative merits of the text is not considered appropriate for this task.  
Texts for study in Unit 3 are:
Kenneth Slessor's poetry. 
Shakespeare's Othello and a theatre performance of the play. 
Alice Munro's short story anthology Dance of the Happy Shades 
Area of Study: Creative Responses to texts
In this unit students develop critical and analytic responses to texts. They consider the context of their responses to texts as well as the ideas explored in the texts, the style of the language and points of view. They investigate literary criticism informing both the reading and writing of texts. Students develop an informed and sustained interpretation supported by close textual analysis. For the purposes of this unit, literary criticism is characterised by extended, informed, and substantiated views on texts and may include reviews, peer-reviewed articles, and transcripts of speeches.   
Area of Study 2 Close analysis of texts
In this area of study students focus on detailed scrutiny of the language, style, concerns, and construction of texts. Students attend closely to textual details to examine the ways specific features and/or passages in a text contributes to their overall interpretations. Students consider literary forms, features and language and the views and values of the text. They write expressively to develop a close analysis, using detailed references to the text.  By the end of this unit students are prepared to develop nuanced analysis and interpretations in accomplished and authentic voices.   
Texts for study in this unit are:
Bram Stoker's novel Dracula 
Poetry by Petra White, A Hunger 
Assessment  
Percentage contributions to the study score in Literature are as follows:  
Unit 3 School-assessed Coursework: 25 percent  
Unit 4 School-assessed Coursework: 25 percent  
End-of-year examination: 50 percent  
Both manual methods and ICT are used to record and report. Students extend their understanding of the recording and reporting process with the inclusion of balance day adjustments and alternative depreciation
methods. They investigate both the role and importance of budgeting in decision-making for a business. They analyse and interpret accounting reports and graphical representations to evaluate the performance of a business. From this evaluation, students suggest strategies to business owners to improve business performance.
Area of Study 1: Extension of recording and reporting
Area of Study 2: Budgeting and decision-making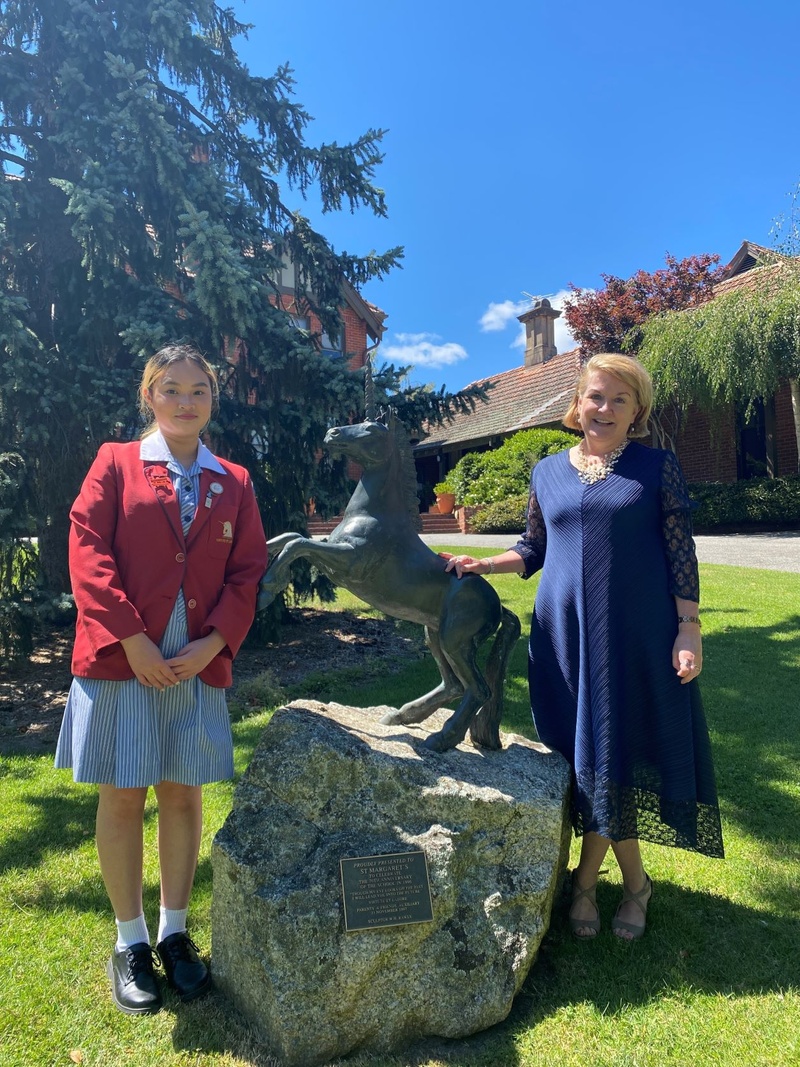 Selection advice
What kind of learner is best suited to study this subject?  
Literature students need to be able to study autonomously, read beyond the text list, be curious about literary theory and read against the grain with diverse lenses.  
What key skills are required for success?  
Strong reading and writing skills, analytical skills, ability to synthesise information and develop independent interpretations of the ideas, concerns, views, and values explored in literature. Students should have accomplished high level English results in year 10 to enrol in Literature.  
What are three most engaging topics studied?  
All literature is engaging and offers students opportunities for creative writing to build their writer's voice. Critical Theory involves ways of looking at the world from different literary lenses like feminist, psychoanalytical or postcolonial. This is one that is new to students and helps them look at texts from a myriad of perspectives and read against an obvious or mainstream response.  
What are the learning activities in this subject like?  
Socratic circles, gallery walks, crossing over to art to explore how texts and their subjects have been depicted by artists. Applying the Harvard reading and note-taking skills and deep dives into how literature and fiction provide powerful ways at commenting on the human condition. Additional academic reading of literary essays will be provided for consideration of a myriad ways of interpreting ideas and concerns of texts as well as literature podcasts. 
What advice would you give to a student about to embark on this subject?  
Literature is for students who love reading and writing and are keen to explore the nuances created by writers. It will challenge you to read texts in different ways; for example, you will learn about different theoretical approaches to reading such as Reader Response theory. You need to be able to share your opinions, build interpretations and learn from the ideas others put forward.